Barn weddings offer plenty of rustic charm, stunning scenery, and lots of room for your guests to party – it's no wonder they're so popular! Some of our favorite barn wedding venues include Meredith Manor and Brandywine Manor House. The Lancaster Pennsylvania area has many barn options to choose from! But barn weddings sometimes come with additional logistics to consider. Keep the following in mind to assure you get the epic photographs you deserve and keep your guests comfortable during your special day.
Barn Wedding Photography Tips
What important factors should you take into consideration to get the most from your barn wedding photography?
Tip 1: Make the Most of the Scenery
Most barn venues have stunning countryside views that make for gorgeous photos. Be sure to make the most of the grounds, as well as the outside of the barn and any other interesting buildings. If possible, scope out your venue in advance and come up with some favorite locations. Depending on how far out you are booking your venue, we recommend that you see your venue in the same season as your wedding date. You should also be aware of how lighting will change during the day. You might want to add some twilight shots to your must-have list.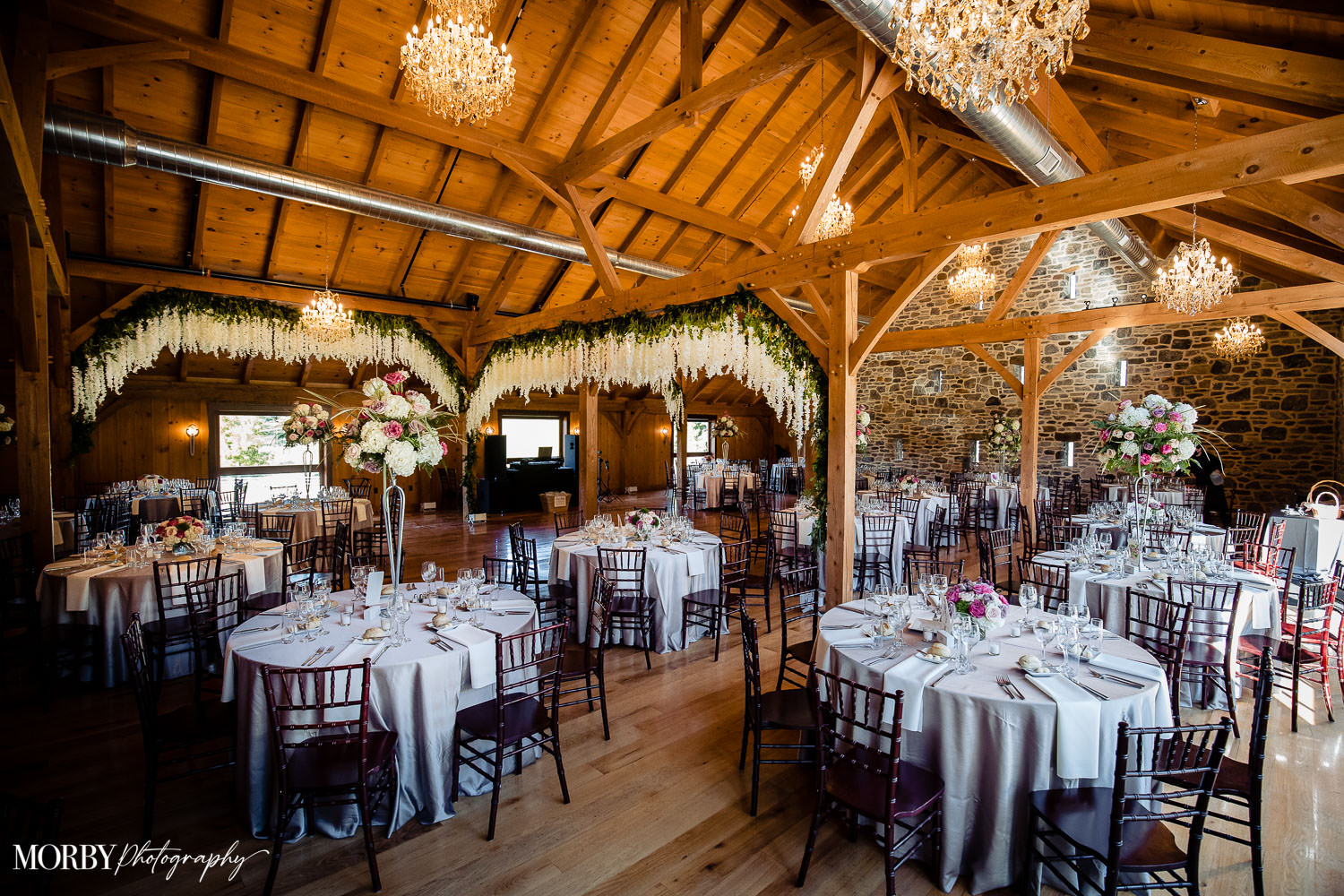 Tip 2: Make the Most of the Barn
The wood of the barn will give your indoor shots a warm feel, making them cozy and inviting. If you prefer cooler lighting, a barn venue may not be for you. Barns often have high ceilings, exposed rafters and beams, and visually interesting architecture which can be incorporated into some of your photos. Some venues specifically offer a safe place (like a balcony) in which your photographer can get overhead shots capturing the beauty of the barn.
Tip 3: Make the Most of Your Decorations
Green florals look great against a wood background, so keep that in mind as you're choosing flowers. Most couples that do barn weddings add unique rustic touches which photograph well. Think of your centerpieces, favors, and any other decorations and consider how they can add to your theme, making the wedding itself and your photos even more fun.
Tip 4: Make Sure You Have Enough Lighting
Green florals look great against a wood background, so keep that in mind as you're choosing flowers. Most couples that do barn weddings add unique rustic touches which photograph well. Think of your centerpieces, favors, and any other decorations and consider how they can add to your theme, making the wedding itself and your photos even more fun.
Tip 5: Know Where You'll Get Ready
Some of our favorite photos involve the couple getting ready for their big day. We love to capture all the intimate moments between family and friends that happen before the wedding starts. Some barn venues provide beautiful changing areas, some have tiny changing rooms, and others don't have any space for this at all. Remember – both halves of the wedding party must get ready, so you need two separate spaces large enough to accommodate your wedding party. If you'll be doing hair and makeup at the venue instead of in a salon, that requires even more room. Talk to your venue early in the planning process so you can make outside arrangements if necessary. If you can't get ready in the barn comfortably, you could book a hotel room or a nearby Airbnb.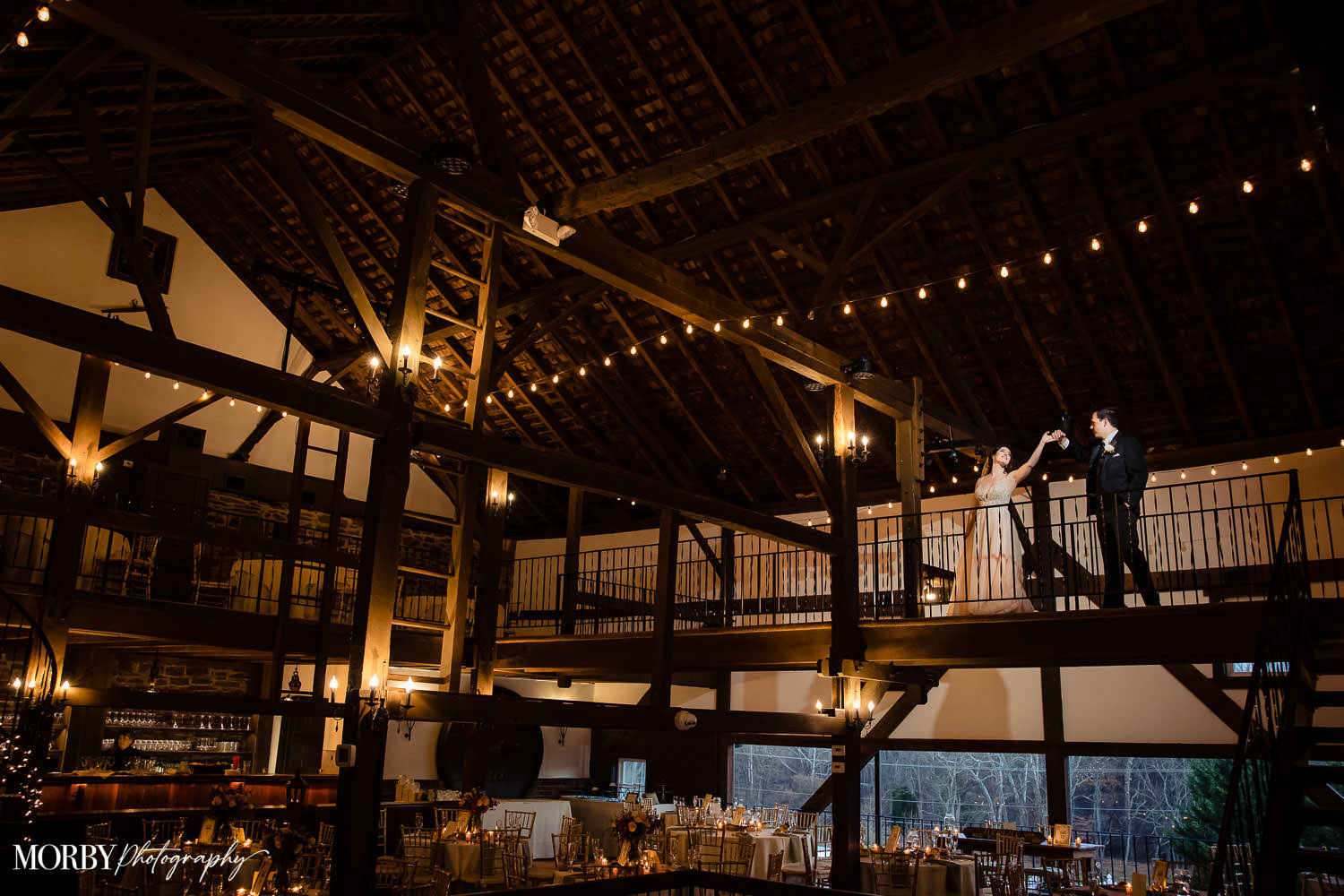 Tip 6: Find Out When You Can Arrive
No matter where your wedding is held, it's a good practice to find out how early you can arrive to get ready or start taking photos. Some venues might be full-time event spaces while others might be working farms. Either way, you'll need to know their rules and restrictions.
Logistical Questions to Ask
We're focused on photography at Morby Photography, but we have seen enough barn weddings that we wanted to share some other great questions to ask your venue.
Question 1: Is there a backup site for the ceremony if it rains?
No one wants to think about moving their wedding at the last-minute, but it's better to plan ahead than be caught unawares. Barn wedding ceremonies are often held outdoors, with the reception inside the barn. Find out how your venue handles inclement weather. Can they pitch a tent? Is there another building on the property where the ceremony can be held? Determine when the final call needs to be made. Some venues can make the switch just a few hours before the ceremony while others need to know before the day of.
Question 2: Is the venue handicap accessible?
Even if you don't expect any of your guests to come in a wheelchair, don't forget about others who may have difficulties with stairs, long walks, or uneven terrain. Rural areas are not always the most handicap friendly, especially if your barn was repurposed and not built as an event venue. Make sure there's a plan to get all your guests from the ceremony to the reception. Some venues offer golf cart options to help with accessibility.
Question 3: What's the parking situation?
Some truly rural venues may have field parking – which is fine on a dry, sunny day but can become a muddy mess if there's significant rain on your wedding day or even the days leading up to it. Parking may also be far from the ceremony and reception locations, which can be a challenge for some guests. Find out if there are handicapped spaces available, and how many. If guests will be parking in a field, ask about alternatives if it rains.
Question 4: Is the barn climate controlled?
Air conditioning is not a common feature in Pennsylvania barns! That may not be the case for barns built specifically to be event spaces, but you should definitely ask the venue and keep the weather in mind when you're picking your wedding date. On the flip side, most barns don't have heating either. Be sure to consider the comfort of your guests. You may need to adjust the times or dress code accordingly. If you do expect your wedding to be warm, consider some extra refreshing specialty cocktails or cooling wedding favors like fans or hats.
Question 5: Is there a backup generator in case of a storm?
Not something you'd typically think of, but we actually shot a wedding once where the power went out! Does your entertainment company or photographer have the necessities to adapt to power loss? Rural areas often have spottier power than cities, with high winds or storms sometimes bringing down power lines. Having a generator on site isn't necessary, but it can provide extra peace of mind.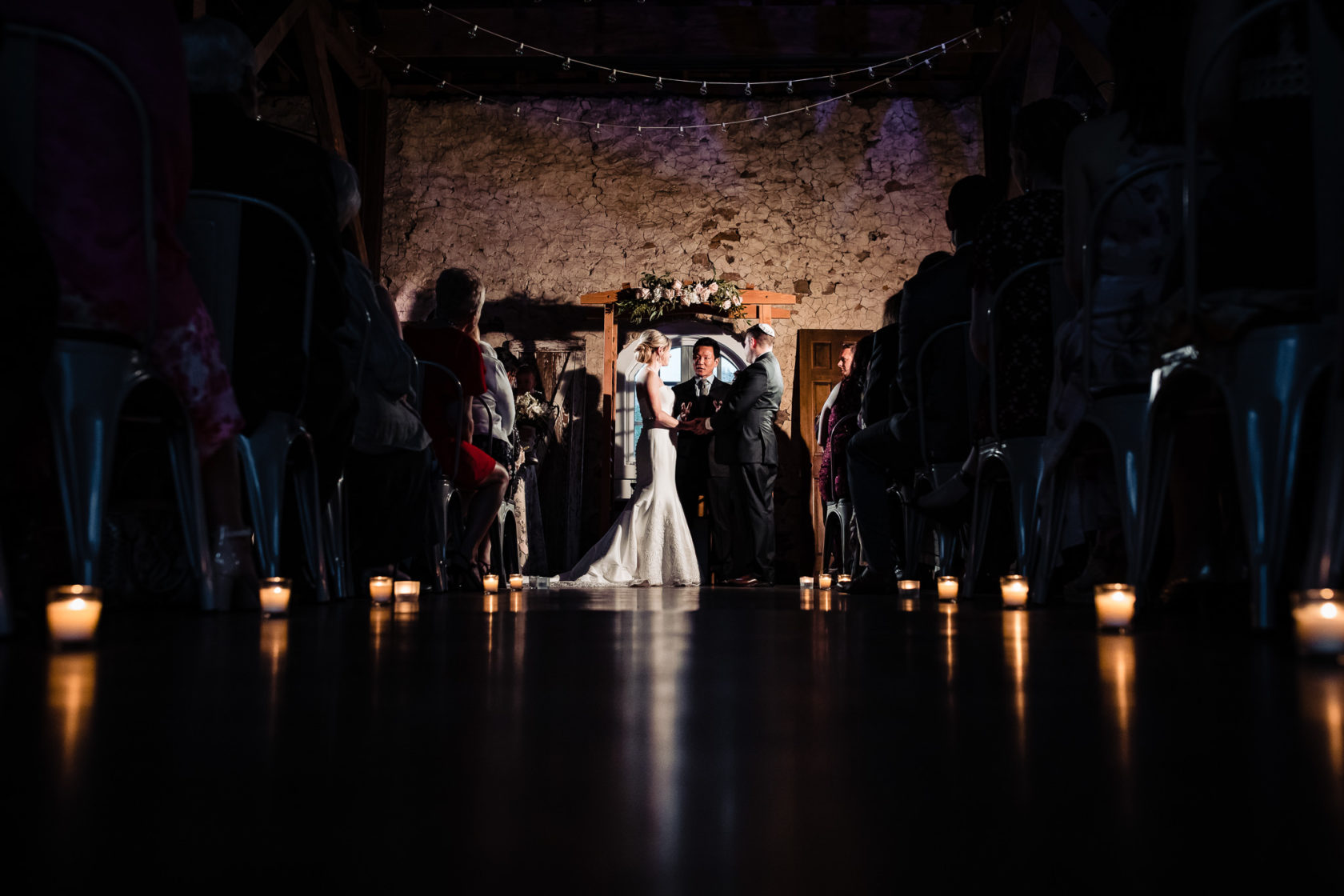 Question 6: Is there a curfew or any noise restrictions?
Curfews or noise restrictions are sometimes set by local governments or put in place by the venue to keep the peace with their neighbors. While you're asking, find out if your venue allows sparkler exits if you plan to do this. If the rules say you need to wrap up early but you want to keep the party going, consider an off-site afterparty, perhaps at a local bar or the hotel you recommended to guests.
Question 7: What does your venue provide?
Barn venues vary widely in their amenities. Some have permanent bathrooms, while others require you to bring in portable ones. Some have a kitchen on site, others don't. Your venue may or may not have its own liquor license. Does your venue provide a day of coordinator or do you need to provide your own for smoothness? Find out what you'll need to outsource and ask whether those rentals can be picked up the following day.
Barn weddings sometimes require a good backup plan, but with a little creative thinking you can throw a stunning rustic wedding that your guests will be talking about for years to come – and every time they see your gorgeous photos!