There are a lot of upsides to winter weddings. Maybe you love Christmastime or are dreaming of a winter wonderland theme. Perhaps you're thinking pragmatically about lower costs, an open date at your venue, or fewer conflicts with other weddings or events. Or maybe you just don't want to wait until spring!
Whatever your reason, there are a few things to keep in mind to make sure you're as happy with your wedding photos as you are with the rest of the celebration.
Remember When it Gets Dark
It might slip your mind if you're planning your wedding during the summer, but remember how we change the clocks in November and suddenly it's dark at 4:30? You do not want to forget this when you're picking times for each part of your winter wedding. Even if your ceremony will be held indoors, if you want any outdoor photographs of yourselves and your wedding party, you need to plan when they will occur. Light starts falling to less than ideal levels before the sun sets. Twilight isn't much better than pitch blackness if you're looking for clear shots.
If your ceremony is outside, then time of day is even more important! Make sure your ceremony is early enough in the afternoon that you've moved on to the (lighted) cocktail hour before darkness falls.
If your ceremony is indoors but you want to take outdoor photos, consider taking first look photos before the ceremony. This allows you to take advantage of better lighting while keeping your ceremony at a traditional time.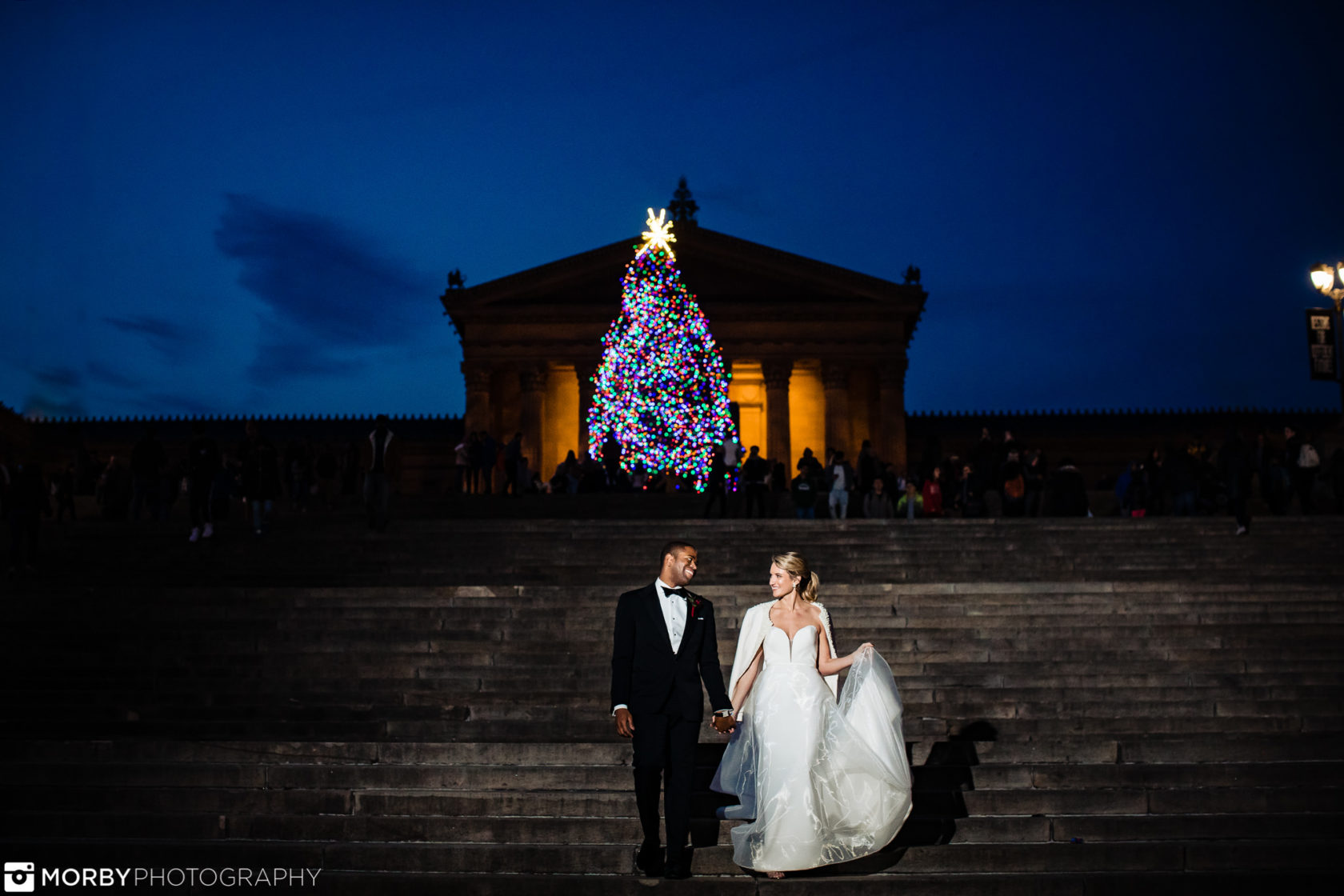 Be Realistic About the Weather
Winters in the Greater Philadelphia Area can be a mixed bag. You might wake up to an unexpected warm spell, a delightful coating of snow, or freezing rain. Winter precipitation may or may not look wonderful in your photos, depending on just a couple degrees. It also may make travel difficult for you and your guests.
When planning a winter wedding, it's best to leave room in the schedule for travel delays or coping with the weather – including the cold. Holding the whole event in one venue instead of driving between two or three different places for the ceremony, photos, and reception can reduce anxiety around road conditions and traffic if the weather is less than ideal. Your guests will know that once they arrive they can enjoy themselves for several hours before getting back on the road.
You should also plan more time for photographs if you can. Depending on the weather, you may need to travel to a backup location. Cold might be another obstacle. Instead of forcing yourself and your wedding party to power through every shot trying not to look frozen, allow for indoor warm up breaks, maybe with some hot beverages.
Have an Indoor Backup Plan
You can plan for the light, but you have no control over the weather. If it's sleeting, you won't be able to take your photos outdoors. While you can hope for the best, you should have a backup indoor location for your photographs if the weather doesn't cooperate. Try to find a place with interesting interior architecture, perhaps somewhere with a beautiful doorway or large windows where you can incorporate an outdoor view from inside. If you find the perfect spot, you may choose to skip the outdoors and shoot there regardless of the weather.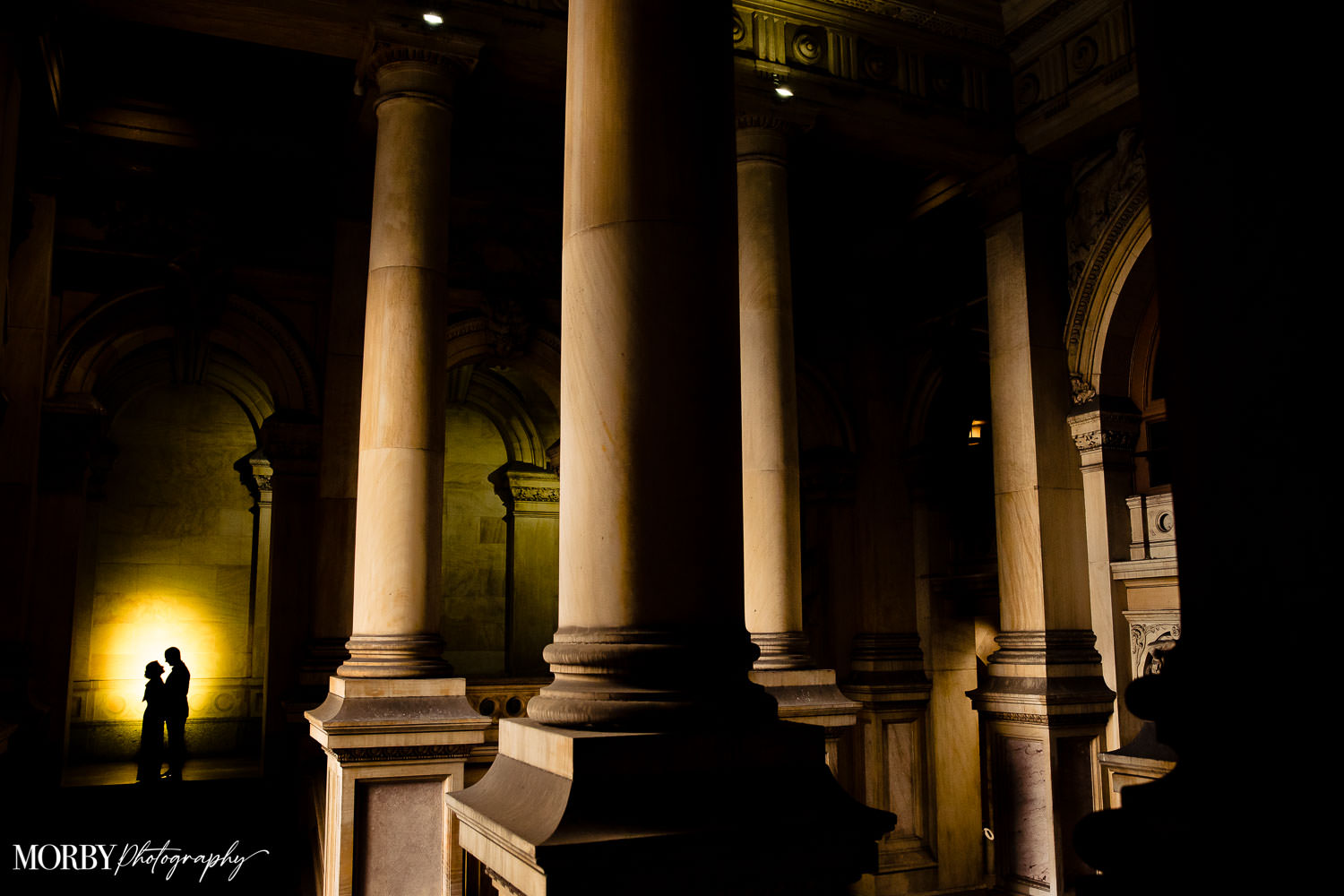 Add Color Where You Can
Even if you're blessed with clear skies and a lovely coating of snow, the bride may start to blend in with the background. Consider incorporating a pop of color to bring some drama—perhaps in the flowers or an accessory, like a belt or jewelry. Remember that an outdoor setting probably won't look the same in the winter as it did in the summer—plants are dormant, the sky tends to be greyer and lighting is not generally as bright. Pick your wedding colors carefully to compensate.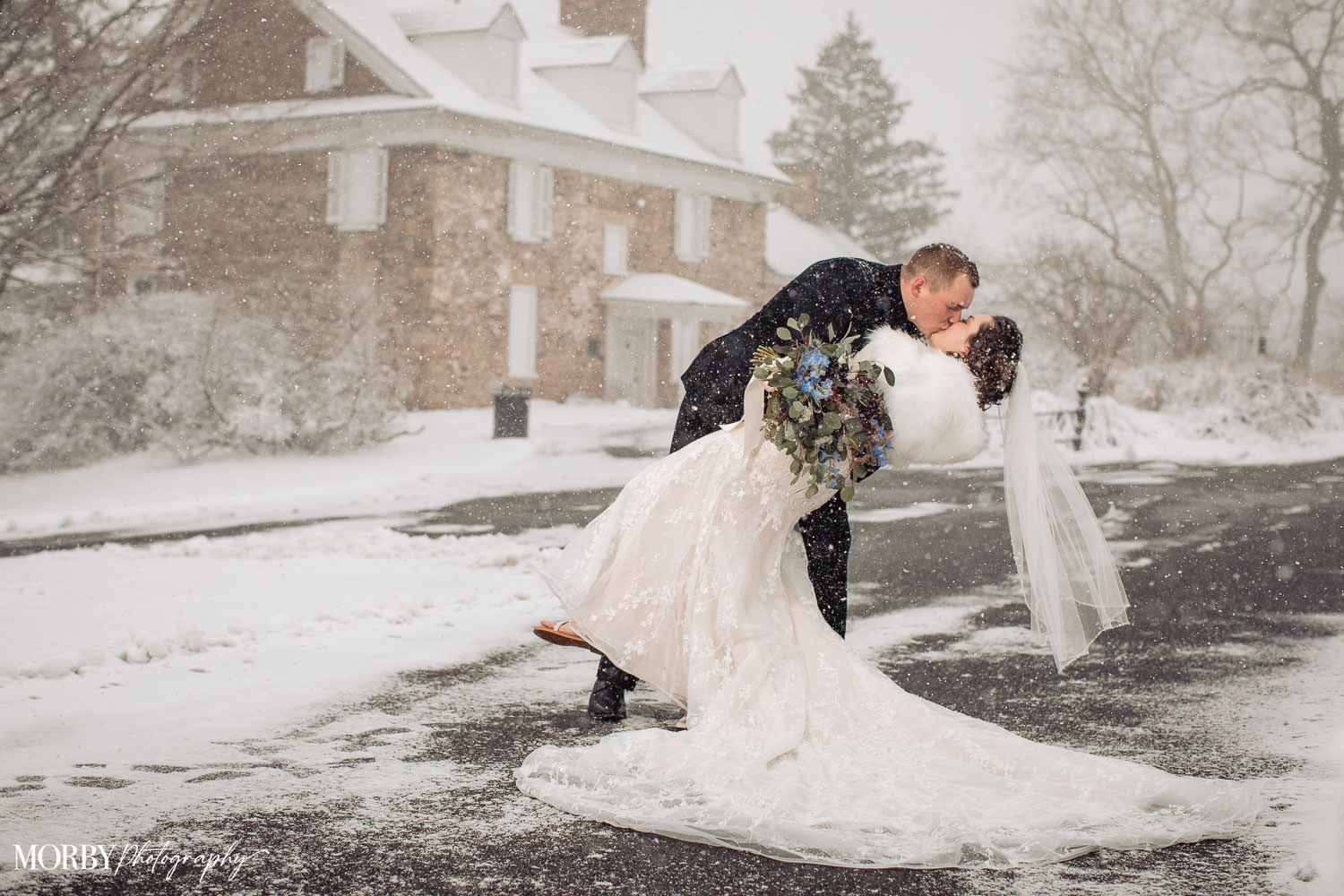 Be Prepared For the Cold
If you're going to attempt outdoor photographs when the weather may be below freezing, be prepared! Strapless gowns for the bride and her bridesmaids may not give you the protection from the elements. Consider incorporating winter attire into your photos—matching shawls, gloves, and boots can keep your ladies warm and add winter charm to your pictures. You can always take these off and switch shoes during the ceremony and reception. If cold weather attire is a no go for your aesthetic, keep it close for those who aren't in the current shot. And be sure to bring enough hand and foot warmers for everyone.
Boots for the bride are strongly recommended. No one's going to be looking at your wedding photos for the footwear. But they will notice if the bride can barely smile because she can't feel her toes.
Mind the Wind
You should also be realistic about wind. If a windy day is predicted, strongly consider up-do's for the bride and her bridesmaids. The bride may be set on having her hair down, but her perfect style may not survive before reception if the elements are against you. Better to compromise than to look windblown and messy.
Trust Your Photographer
When booking a photographer for your winter wedding, ask how many winter weddings they've done, and see if they have samples they can show you. Most of their online portfolio probably comes from peak wedding season. Checking out their winter work will help you understand what to expect.
Expert photographers like the ones at Morby Photography know how to work with available light and take good photographs in darker environments. They also know what won't work well. You should trust their expertise. Run your best-case plans by them, and listen if they express concerns. On your wedding day, if they tell you conditions are poor and you should move to your backup plan, know that their intention is to get you the best photos they possibly can.
Be Flexible
When it comes to winter weddings, flexibility is key. If you embrace the fact that the weather is out of your control and plan for a contingency or two it'll be easier to adapt to any necessary changes. Dress warmly, pack a few extra supplies, listen to your photographer, and enjoy!