There are so many reasons to love engagement photos! They capture this exciting period of your relationship in a fun, romantic, and creative way, leaving you with images that you'll cherish forever – and can share with others on your save the dates and wedding website. And if you get your engagement photos taken by your wedding photographer (which we recommend), it gives you all a chance to get to know each other better. That will make you more comfortable being photographed on your wedding day and allow them to better understand you as a couple and what you're looking for in the perfect wedding photo. Read on for advice about how to prepare for an engagement session that perfectly showcases your love story.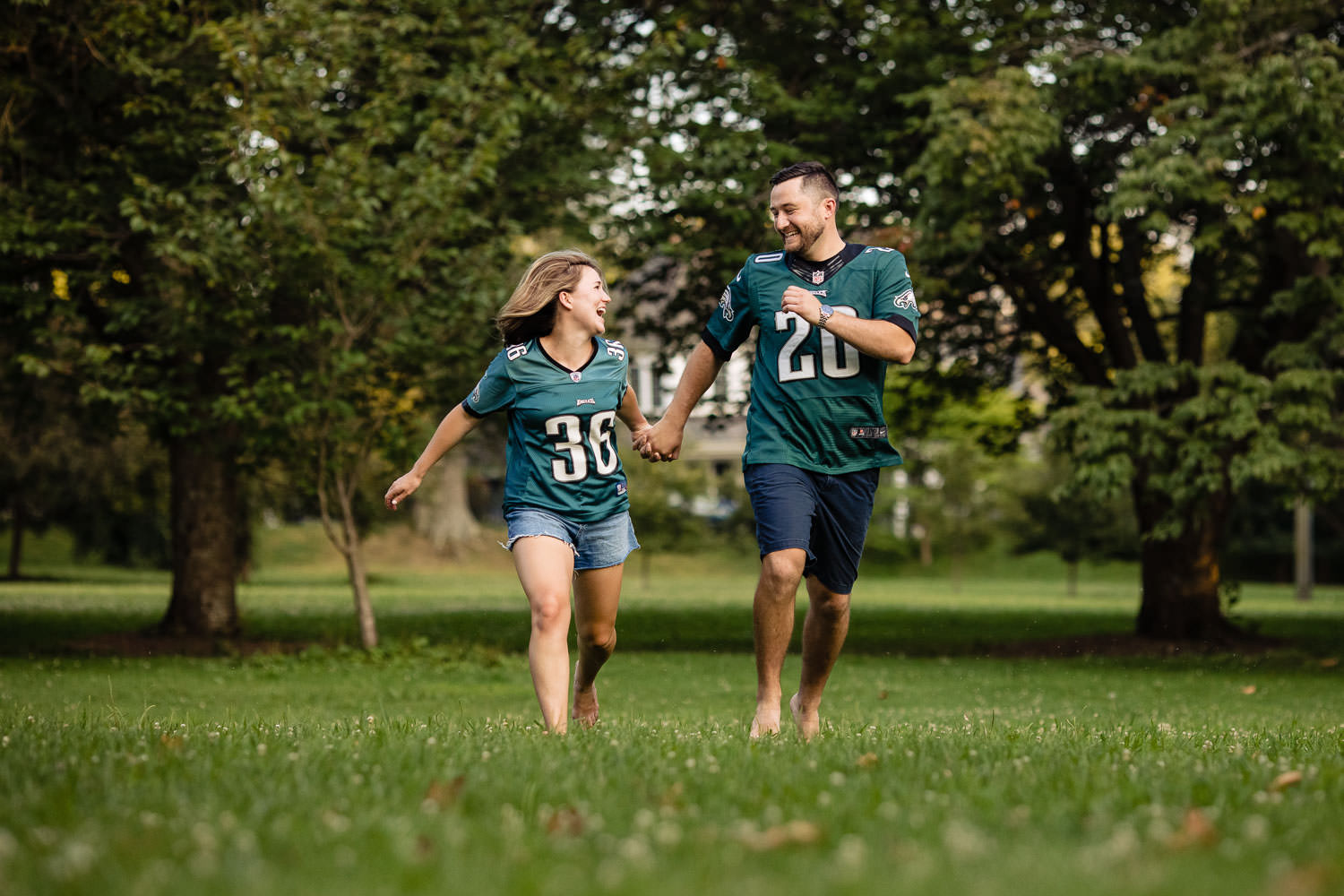 Decide on Your Vibe
The key to the best engagement photos is being comfortable and being yourselves. While many couples choose to dress up for their engagement photos, that isn't required. Consider the vibe you want to convey with your photos. Maybe that's fancy, casual, or adventurous. If the bride-to-be never wears dresses, wearing one in your engagement photos just because you think you should is going to look forced.
We recommend you go with a vibe that matches your authentic selves and honestly represents you as a couple. Casual photos done right can look just as romantic and memorable as fancy ones. We do recommend that you both stick to a similar level of dressiness. If one of you wears an evening gown while the other wears jeans and a t-shirt, you're going to look mismatched in a jarring way.
And remember: you can bring a selection of outfits which will allow you to dress up in some of the photos and be more casual in others.
Choose a Meaningful Location
We love when couples choose a location for their engagement photos that has some special meaning to their relationship. That could mean returning to the site of your first date or the place he proposed. Perhaps there's somewhere you frequently visit together for a shared interest or hobby. Maybe you both love the outdoors, or a particular style of architecture. Or maybe you want your photos taken in the first home you shared together.
There's a lot of beautiful places out there, and your photographer can probably make some suggestions if you're unsure. But your engagement photos aren't about the scenery: they're about you as a couple. So don't be afraid to embrace personal significance over Instagram readiness.
Your vibe and location should go hand and hand. If your photos are taken in the coffee shop where you had your first date, white-tie attire might look out of place. You probably wouldn't dress the same for a walk along the beach as you would a fancy dinner or a hike through the woods. Depending whether vibe or location is more important to you, you can pick either first and then choose the other accordingly.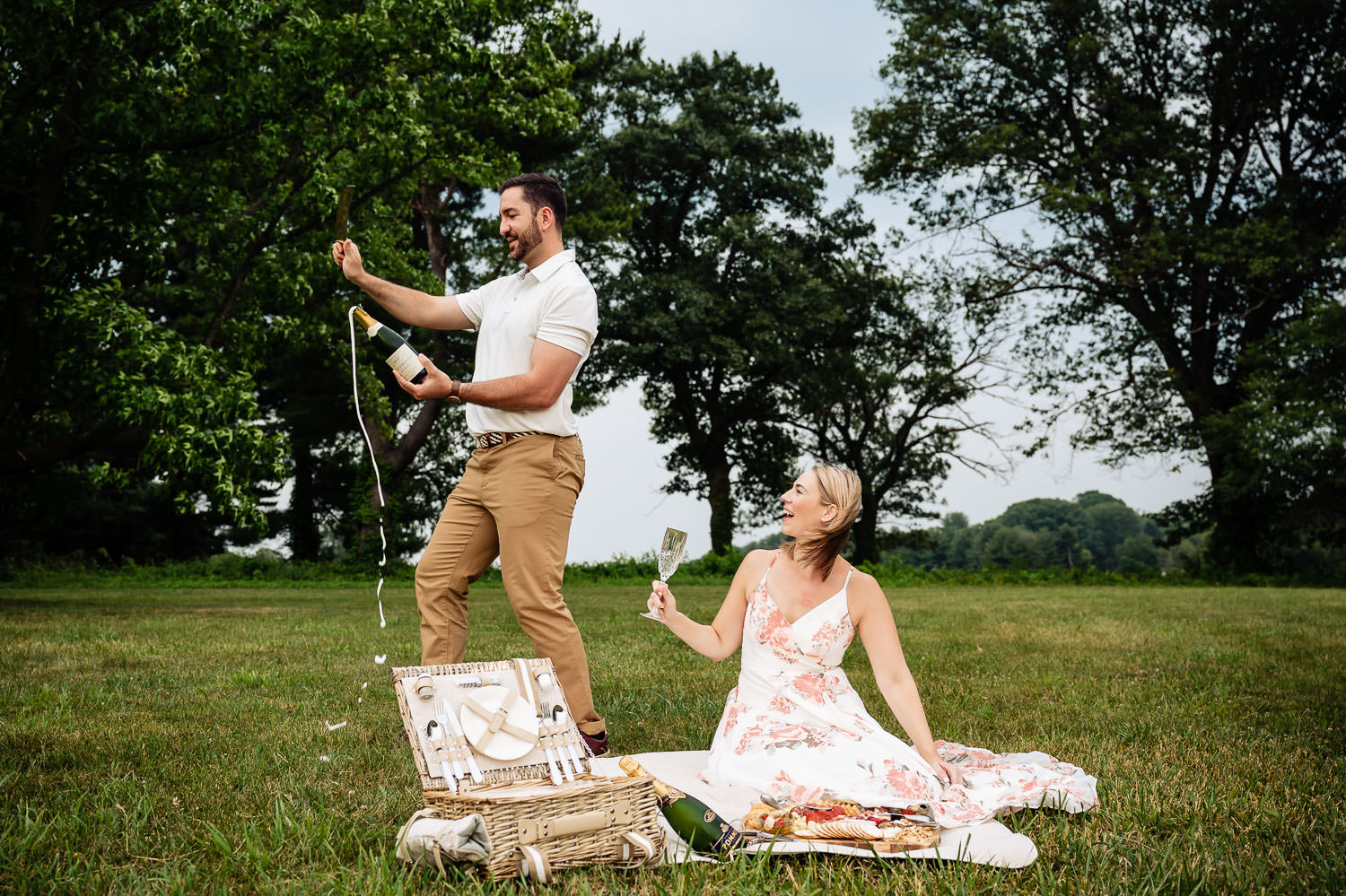 Pick the Perfect Outfit
Your outfits should align with the vibe you're going for and be appropriate for the location of your session. A good rule of thumb is to dress as you'd normally dress (though maybe a bit fancier if you're going for a formal vibe). You want to look like yourself with your true style and personality shining through. Pick an outfit you feel comfortable in, not just one that makes you look good. You don't want to be distracted by your clothes and how they fit during your shoot. Same with shoes! Heels photograph well, but if you never wear heels and are going to worry about them the whole time, it's better to opt for some cute flats. You should also make sure you're wearing the right shoes for the location. If you have a bit of a hike to get there, consider wearing more comfortable shoes and swapping them out once you arrive.
Neutral and earthy tones generally photograph better than bright colors. You should also be cautious about patterns. Avoid busy patterns that may distract from your face and stick to solid colors or simple patterns. We also recommend that couples avoid matching too closely – it actually makes the photos less interesting if your outfits are the same color. Instead choose colors that compliment each other.
Be sure to dress appropriately for the weather so you're not too hot or too cold. We love soft, flowy fabric because it adds movement. Accessories are also a lot of fun and can be added or removed throughout the shoot. These can include scarves, hats, statement jewelry, jackets, sweaters, and even shoes. Feel free to bring along several options and see what strikes you in the moment.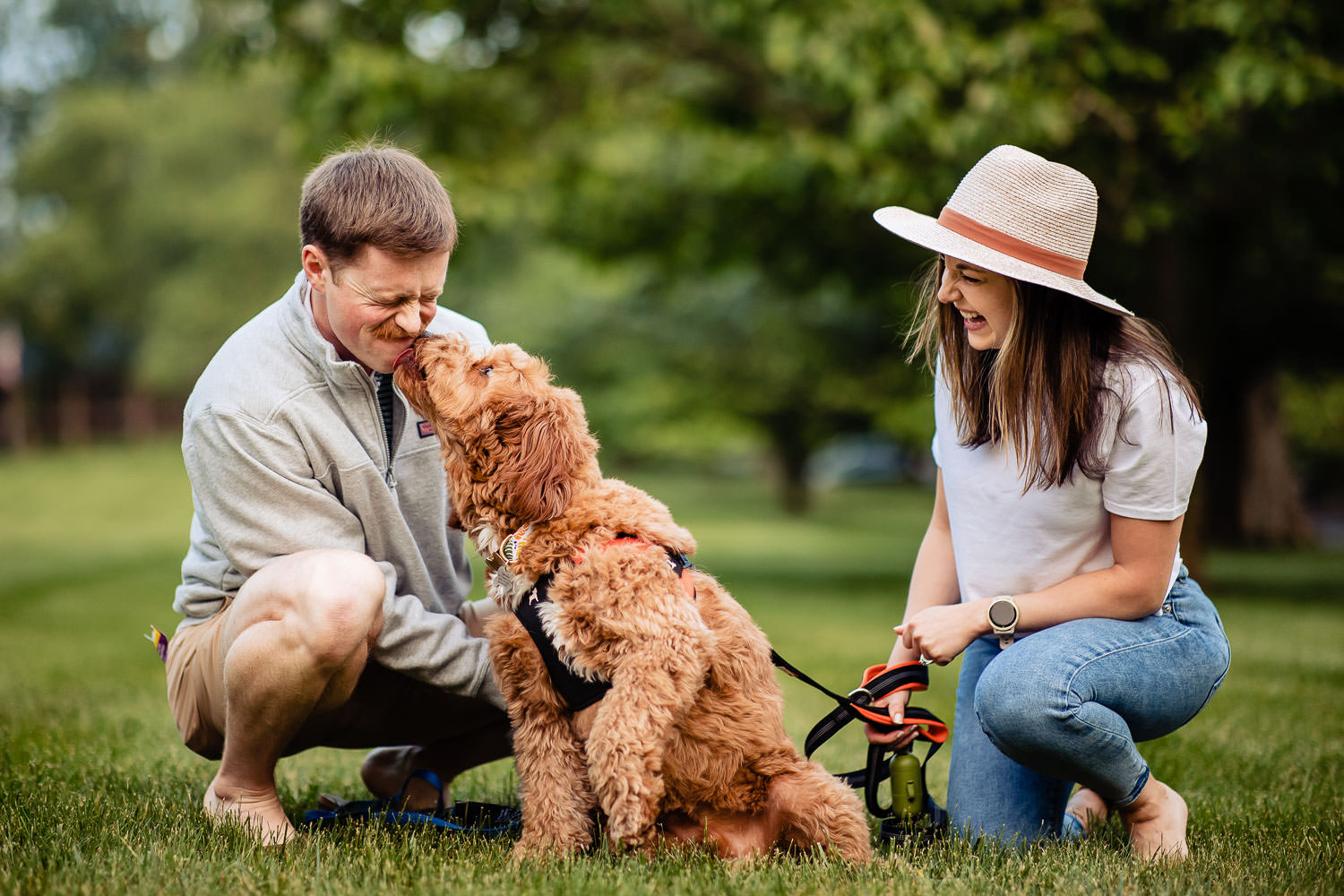 Consider Props (and Pets)
Speaking of things to bring along, we often encourage couples to bring one or two things that they love to do together to use as props. This could be something like a card or board game you often play, your favorite books, or champagne glasses or coffee mugs. This adds a personal touch to some of the shots and allows us to incorporate action and movement. Perhaps you could bring a flannel blanket to sit on or cuddle up in during the fall or a basket of favorite snacks for spring picnic in the park.
Some couples like to include their pet in their engagement photos. After all, they're part of the family! This can lead to some great images, but you don't want Fido to steal the show. We recommend you have a friend or family member bring your pet for either the first or last 15 minutes of the shoot, and then take them away so they're not a distraction. No matter how much you love your furbaby, your photographer will want to get some shots without them. You should be sure that your location is pet friendly, and that your pet won't be so distracted by other animals they refuse to pose. It sometimes helps to exercise them beforehand to work out some excess energy.
Prepare Ahead
There are several ways you can prepare for your photos so that you look your best, even if you're going for a laid-back approach. Remember that casual doesn't mean sloppy! Be sure to steam or iron your clothes so there are no distracting wrinkles. Try on your outfit a few days in advance to make sure you feel great in it, and then get honest feedback from someone you trust.
Ladies may want to consider professional hair and makeup. While this isn't necessary, it can provide an added confidence boost that you're camera ready. And why not pamper yourself a little? Plan ahead to get your hair trimmed and colored 1-2 weeks before your photoshoot to make sure it looks fresh. Consider a manicure, as your ring hand is sure to feature in some of the photos and you don't want your nails to look ragged. Now's also a good time to get your ring professionally cleaned so it looks sparkly and new.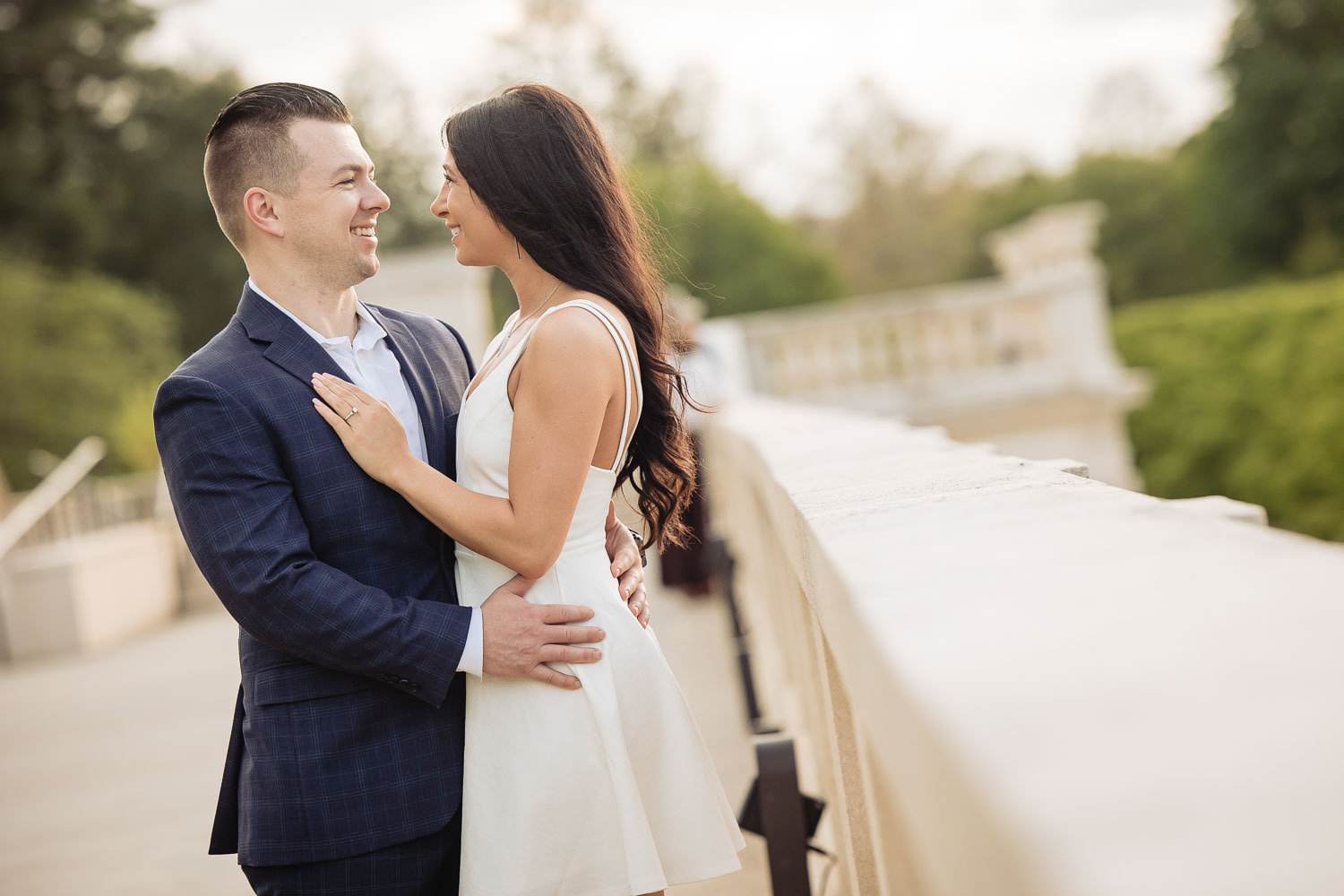 Don't Forget to Have Fun!
Many people dislike being photographed or think they don't look good in photos. An engagement photoshoot can be a wonderful chance to overcome those fears and get more comfortable in front of the camera, which will relieve stress and make you more confident on your wedding day. Go into the engagement session with an open mind, trust your photographer, and just focus on your partner. Remember, this shoot is all about you and your relationship. Try to let loose and have fun. The photographer is there to give you direction. Just be yourself and let your love shine, and you'll come away with images you adore!