No one books their wedding with the hope of rain, but there is always a chance that raindrops could fall on your big day. This doesn't have to be a source of stress as you plan. Make sure you have a backup plan and embrace all the things rainy days have to offer.
Here are our suggestions for guaranteeing you still make the most of your day even if a few drops (or a deluge) decide to fall.
Have a Backup Plan
You might have dreams of a stunning outdoor ceremony, but be sure to choose a venue that has both an indoor and outdoor space that you are in love with.
Be sure that you have had a chance to look at these spaces beforehand and that you are happy with the plan of action the day of, should raindrops begin falling on your head. Assume that if the forecast says it could be cloudy there is always a chance it will rain even if it doesn't actually say rain in the forecast.
For this one detail, we always say, better safe than sorry.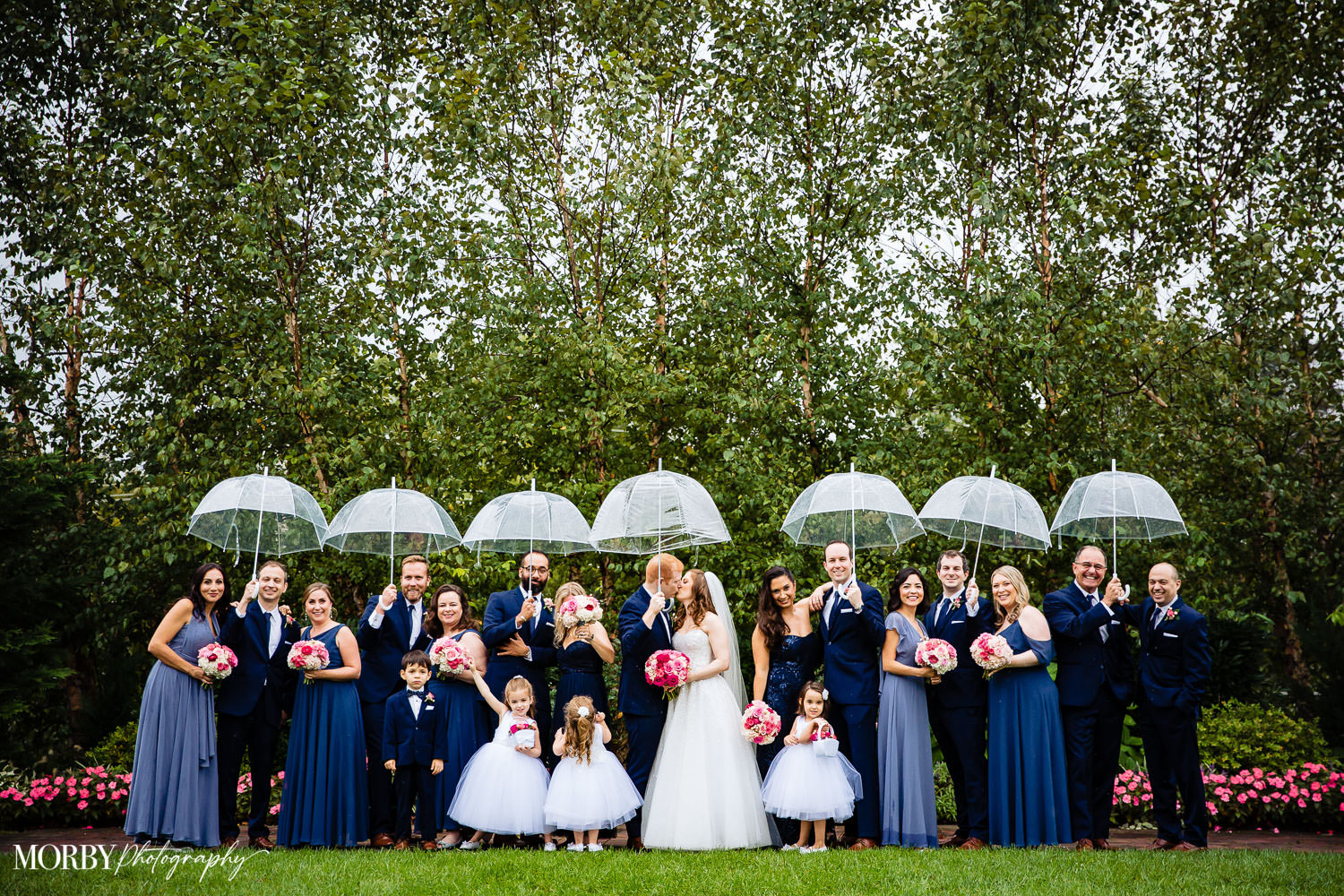 Spread The Word
Let your guests know beforehand that it may rain on wedding day and suggest that they dress warmly or bring appropriate clothing. The worst thing is to have poor grandma shivering and guests being cold, wet and uncomfortable. Make sure to get the word out as soon as possible.
Designate a point person, family member or the bridal party to begin spreading the word. You can use your wedding website and update it to notify guests.
Be Flexible With Your Timeline
While there are preferred or planned ways that a wedding day should flow, weather will change that in an instant. Trust your photographer, venue and gut. Maybe it would be better to do portraits before the wedding because rain is in the forecast for after the ceremony? Maybe getting to your location earlier would be preferred so you're not dodging raindrops?
And just maybe you run out of your reception after the dance because the most beautiful mist is covering your venue. (See it could go either way, avoiding it and embracing it!)
Embrace It
Colorful rain boots to stylish umbrellas, the rain can add a beautiful and unexpected bit of fun to your wedding day. Planning an elegant ceremony? Sleek black umbrellas will make your wedding photos classy. Is your wedding a little more laid back? Add a bit of color and whimsy with bright colored Wellies or umbrellas that pop.
Rainy wedding photos are far from dreary. They can add a bit of mood and romance or a little bit of fun. Rainy weddings can lend to some of the most breathtaking photos and unique photos.
Or have the DJ pop on some songs about rain…. Oh there are so many!
Kick up your galoshes, smile and remember that rain on your wedding day is actually good luck.