When you're considering wedding venues, you're probably thinking about location, availability, and price, and whether it lives up to your childhood wedding fantasies or your current aesthetic. You should also be aware that the venue you choose can significantly impact the quality of your wedding photos. While a good photographer will always work with what they've been given, our experts at Morby Photography have some tips on what to look for in a venue so that your wedding photos are as unforgettable as your wedding itself.
Seek Interesting Backdrops For Each Aspect of Your Wedding Day
When looking for a venue, you should consider each area on the property where a different aspect of your wedding will take place. This includes where you'll get ready, the ceremony location, where you'll take your formal portraits, and the reception space. If you're doing a first look, you may want to find a separate area for that as well. Choosing a venue where you can do everything from getting dressed to your final dance will simplify your planning process and cut down on transportation costs for the wedding party. It will also give you more time during the day to take more photos or enjoy yourself without feeling in a rush.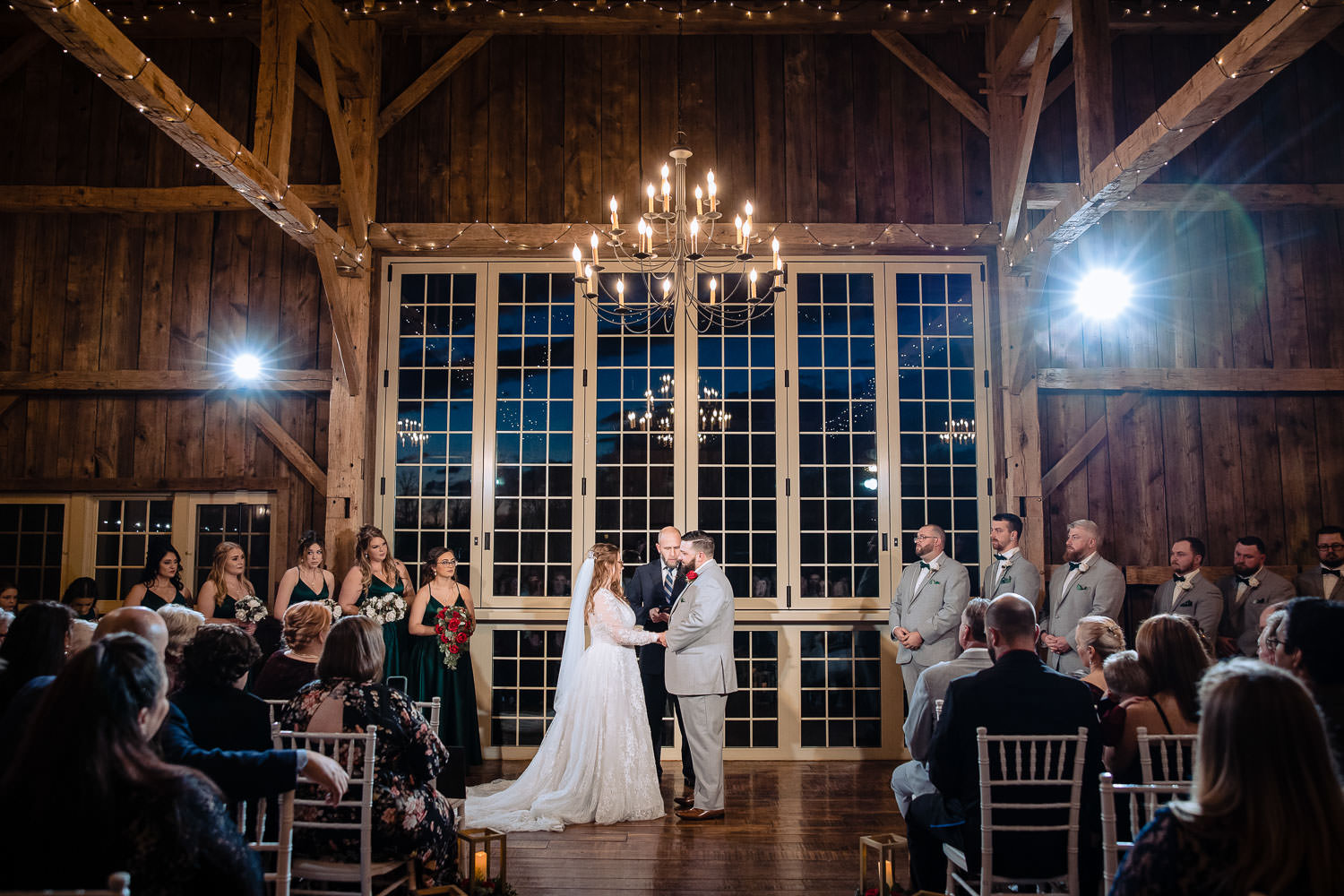 However, we know this isn't always possible – or preferrable. Some people choose different venues for their ceremony and reception. Not every ceremony location has a place for you to get ready. And some couples would rather take their formal portraits elsewhere – either because their venue doesn't have a suitable backdrop, or because somewhere else is personally significant or more interesting.
Whether you stay in one place all day or venture to several, you should make sure that each location is somewhere you want to be photographed. Some venues feature amazing landscapes and tons of architecture that lends itself to epic photographs with little effort. Other venues might have a stunning ballroom for your reception but be surrounded by parking lots, power lines, or other distracting elements that make outdoor portraits less ideal. Sometimes traveling for your portraits is worth it.
When you hire a creative photographer like Morby Photography, we'll do our best to feature the best side of your locations and come up with new ways to show it off venue – like utilizing buildings or foliage to block out unwanted elements. But it's always nice when we have too many lovely backdrops to choose from, instead of too few. We also encourage you to look for interior areas that can be utilized, especially if rain or cold make it unpleasant or impossible to shoot outside. And, with Morby's Philadelphia and New Jersey-area experience, we can also give guidance to locations beyond your venue if you want more variety.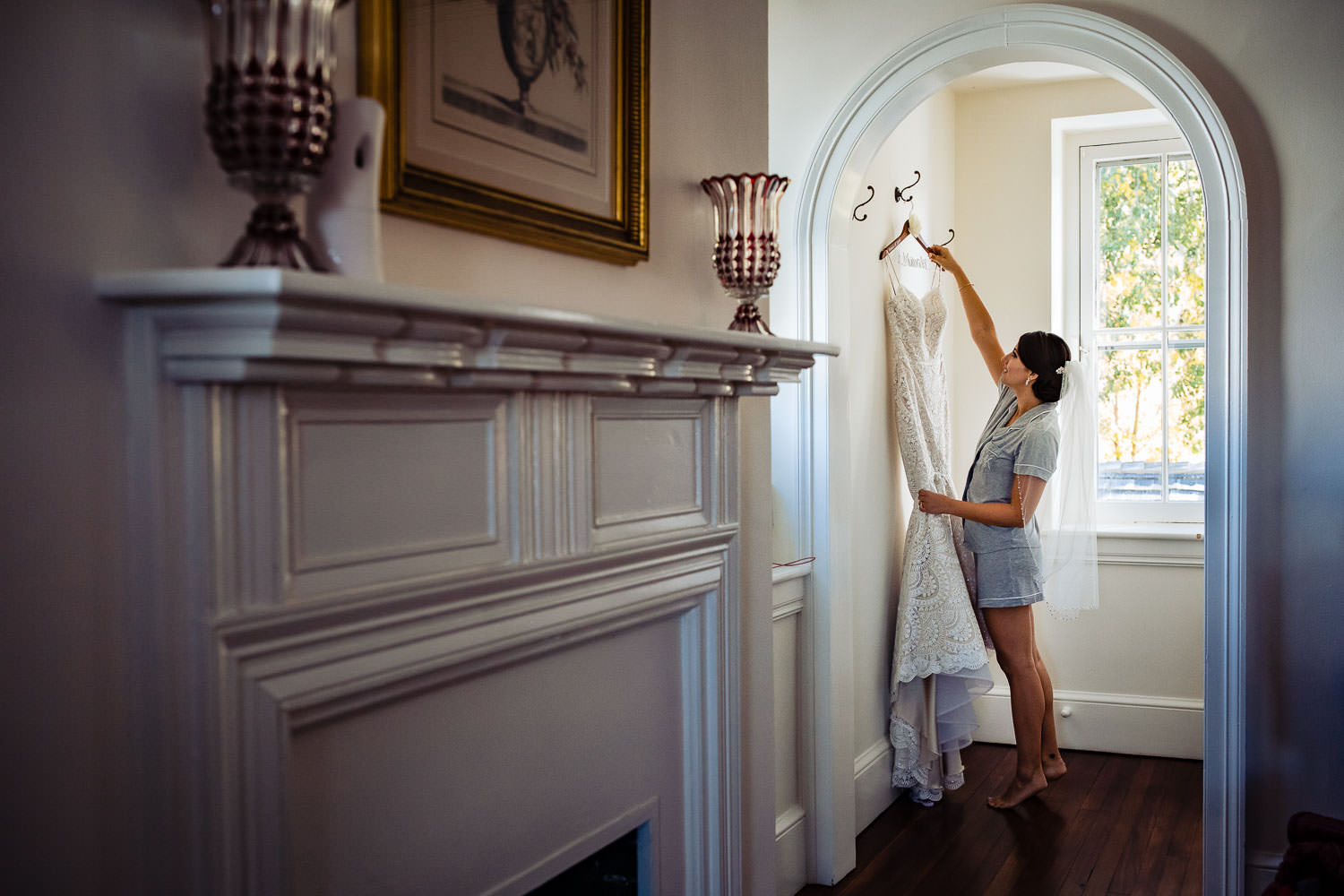 Don't Overlook Where You're Getting Ready
We love wedding photos that capture the bride or groom getting ready for their special day, surrounded by friends and family. Our favorite venues feature spacious suites for both halves of the wedding party. However, some venues only have a bridal suite, and others require everyone to get ready off-site, which adds additional logistics and may require you to start your day even earlier.
When considering venues, find out if bride and groom suites are available and ask to see them. Look for neutral decor or an aesthetic that matches the vibe of your wedding. You want photos from each part of your wedding to complement each other instead of clash. Some getting ready spaces are tight, especially when you remember that the photographer needs room to work. And don't forget the importance of lighting, especially natural light. It's helpful if we can move furniture if necessary to take advantage of the best lighting.
Secure a Backup Location
While every couple hopes their wedding will go smoothly, weather can sometimes throw a wrench in that. Instead of stressing, we suggest finding a backup location for any outdoor components of your wedding so you can effortlessly transition indoors if need be. Ideally, you should find a backup that you actually like and not just tolerate to minimize potential disappointment.
In our opinion, the best venues do this work for you by providing backup locations on site – either indoors or in a covered tent on the grounds. That way this is already covered under your reservation, so there's no additional cost or fuss.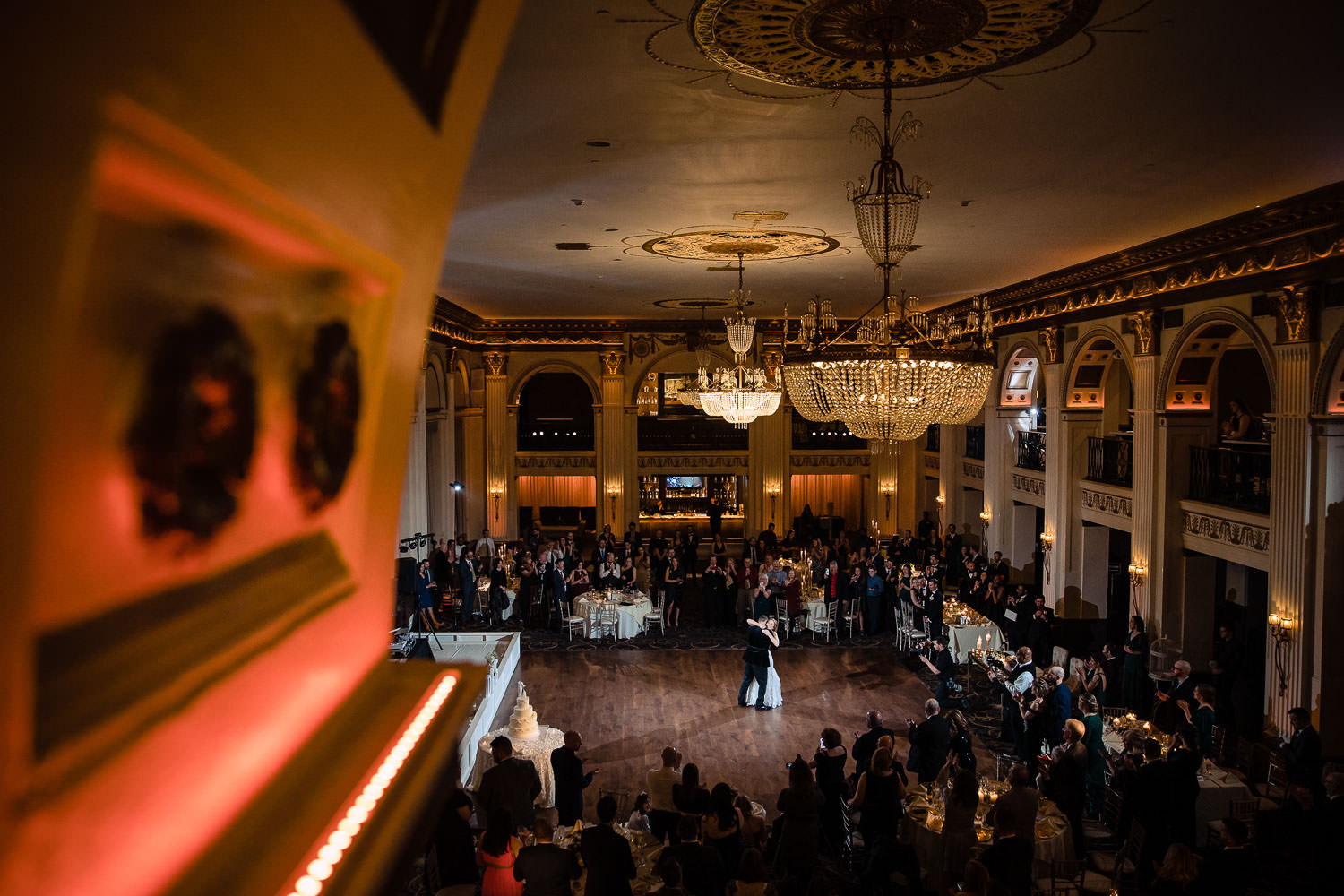 Brandywine Manor House does this masterfully. Although they're best known for their choice of five outdoor ceremony sites, they offer two stunning indoor locations as well. We've shot rainy weddings there that looked as charming as if they'd taken place outside.
Remember to choose a backup location for your portraits too, not just your ceremony. Some venues have indoor rooms with exciting architecture or unique features that might be too small for your festivities, but perfect for portraits.
Check the Lighting at Your Venue
Lighting has a huge impact on photography. Daylight is often softest and most flattering in the late afternoon, but the exact timing will depend on when the sun sets. If you can, visit your outdoor ceremony location at the same time during the same season as your wedding to make sure there won't be shadows obstructing your view or that guests won't be looking into the sun. If timing makes this impossible, see if you can find photos online that show the venue during the season you want to book. That will also give you an idea of what foliage might look like during your wedding, since that may vary through the year.
For indoor portions of your wedding, consider how light will come through any windows. You should also think of how your preferred reception lighting will affect your reception photos. Some venues offer uplighting. Others come fitted with chandeliers or fairy lights. Sometimes you're responsible for providing your own lighting (which can often be done through your entertainment company like your DJ or band). While dim lighting may give your venue a romantic atmosphere, remember that it will affect your candid reception shots.
Make Sure There's Space For the Photographer
If you're pushing the capacity limit for your venue, be sure the photographer will have space to work without getting too up close and personal with guests. They'll need room to move freely around the venue to capture spontaneous moments, but also to set up any necessary lighting to best capture planned events. Getting ready rooms are especially likely to be a bit cramped. And if you choose to have a second photographer, make sure there's space for them to work as well. After years of COVID, many people are still wary of crowds. Your guests will thank you for keeping things spaced out if you can.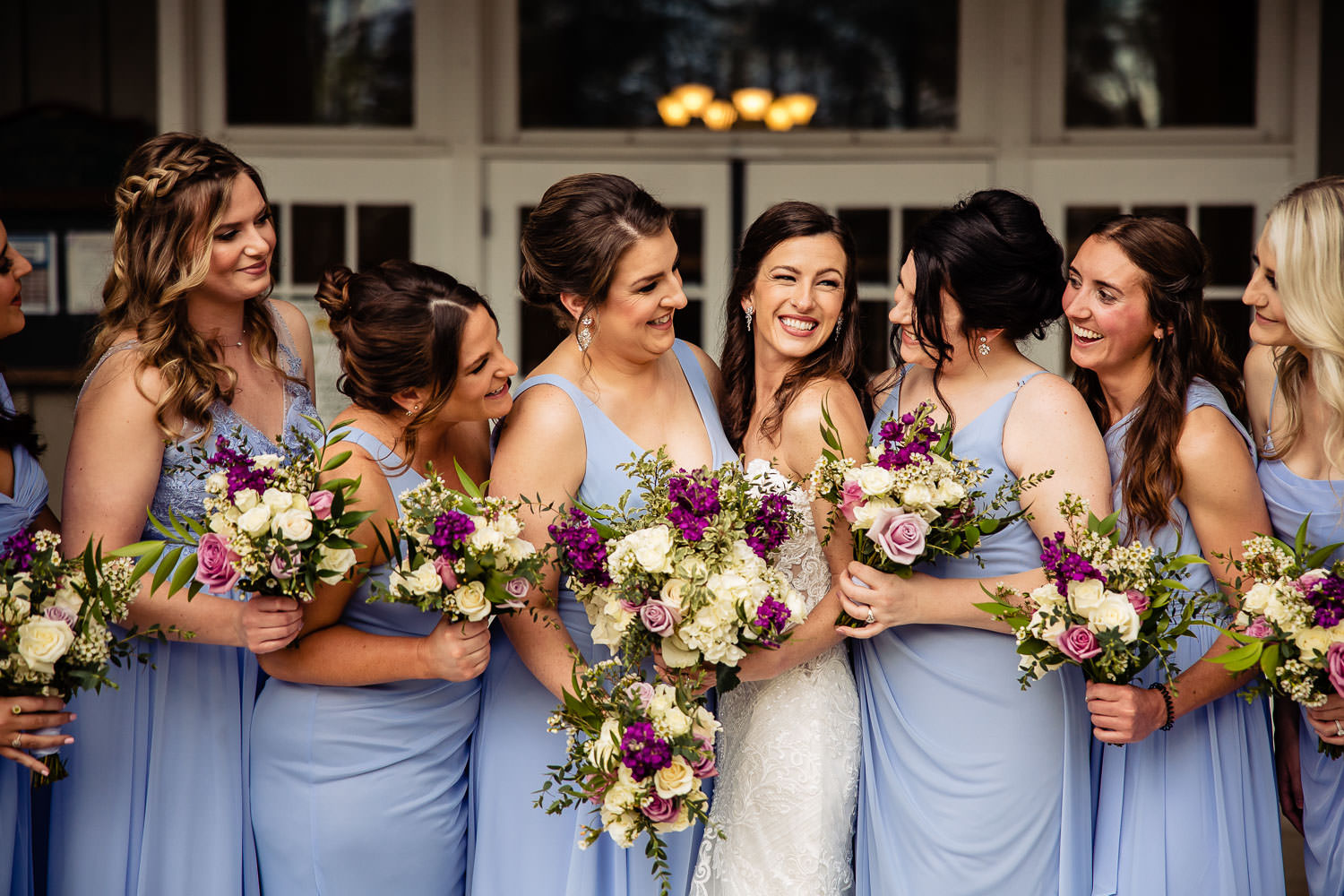 In Summary
A good photographer will make the best of any setting, instinctively seeking symmetry and framing for photos and adjusting to available light. But you can help them by keeping photography in mind when choosing your venue. Location, timing, lighting, and a solid backup plan can all have a significant impact in facilitating the photos of your dreams.