Many couples choose backyard weddings because they're kinder on their budget and more flexible than traditional venues. There's no wait list when you're getting married in your own home! It can also be extremely sentimental to say "I do" in a place you share together. But unless your backyard doubles as an event space, it probably lacks the pizazz of a formal venue and is more like a blank canvas. All it takes is the right planning and a few good vendors to transform an ordinary space into an extraordinary backdrop for an unforgettable day – and unforgettable photos.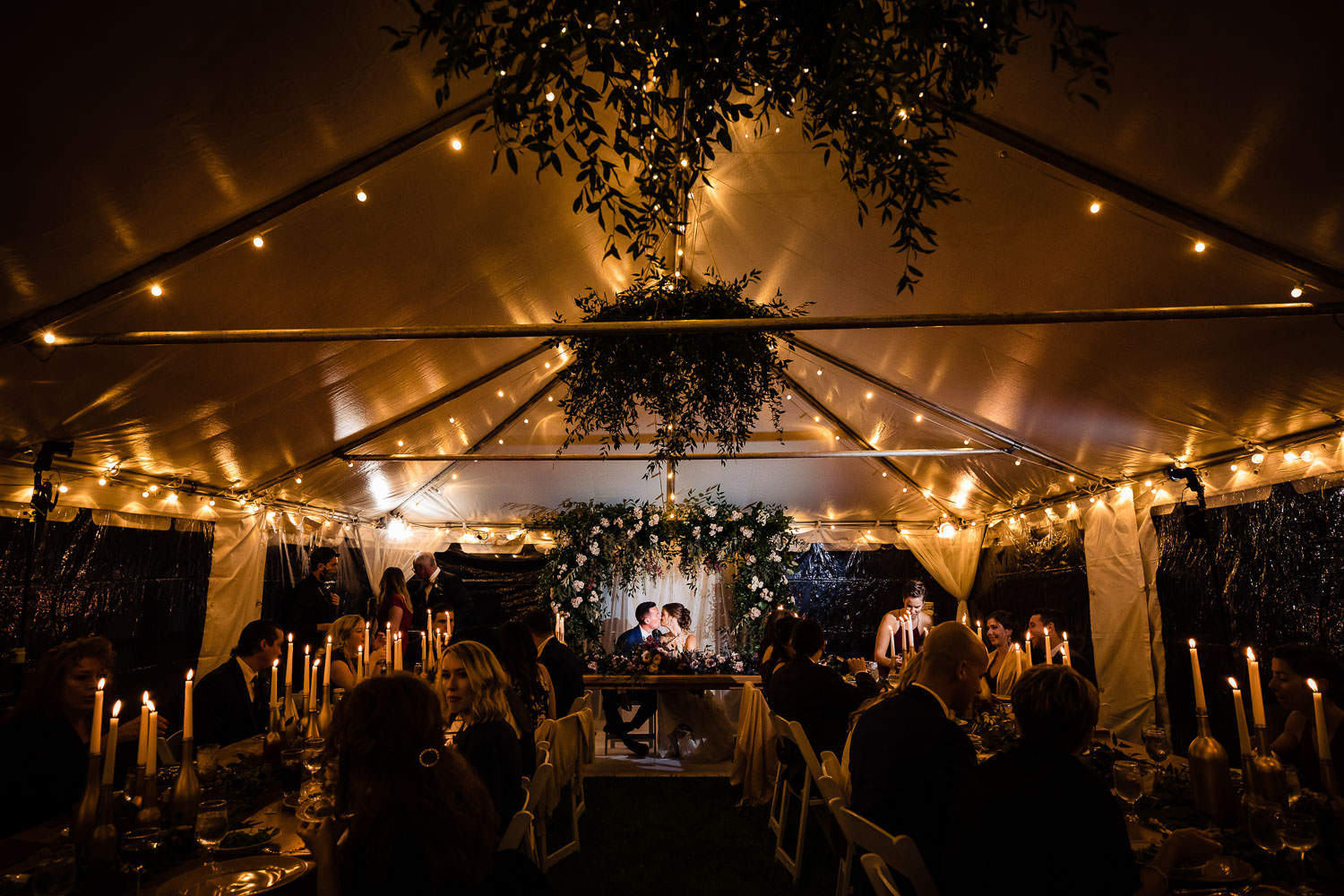 Be Open to Spending on Vendors
While backyard weddings may be less expensive than renting a formal venue, it's important to accept that you will need to spend money if you want the experience to look and feel like a wedding. There are many things that come in most reception packages that you'll be responsible for, such as tables and chairs; linens; plates, glasses and cutlery; and lighting. While there are many things you can DIY, you should also consider rental companies. You might be surprised at how affordable they can be. They'll also save you time, and you won't have to figure out what to do with the stuff you bought after the wedding's over. Whether you rent or buy, we suggest you consider securing the following to dress up your space.
Tent and Dance Floor
While a tent isn't strictly necessary, it can serve several purposes. It provides shelter and a backup location if the weather is bad, as well as shade for those who need it. You can add heaters or fans to make guests more comfortable if the day is too hot or too cold. Holding your reception under the tent can also give your photos a more traditional feel. If there's going to be dancing, we recommend you rent a dance floor unless you have a flat, paved area. Uneven ground can be difficult or even dangerous to dance on. Even if your wedding day is sunny, any high traffic area can quickly become muddy if there's been any rain recently. A dance floor will keep guests clean and give a more polished look to your first dance photos and reception candids.
Flowers
When a wedding takes place in your own space, you're able to use both live and cut flowers to brighten up your surroundings. You should assess the property several seasons before your wedding and begin landscaping well in advance to show off its best features. This could involve planting flowers, removing weeds, or trimming trees and hedges. A professional landscaper can do this to greatest effect. If you take it on yourself, plan ahead to plant flowers that will be in bloom during your wedding, if possible. And when it comes to cut flowers, don't skimp. Flowers are a simple way to bring color and elegance and make the space feel like a wedding venue. They also photograph well!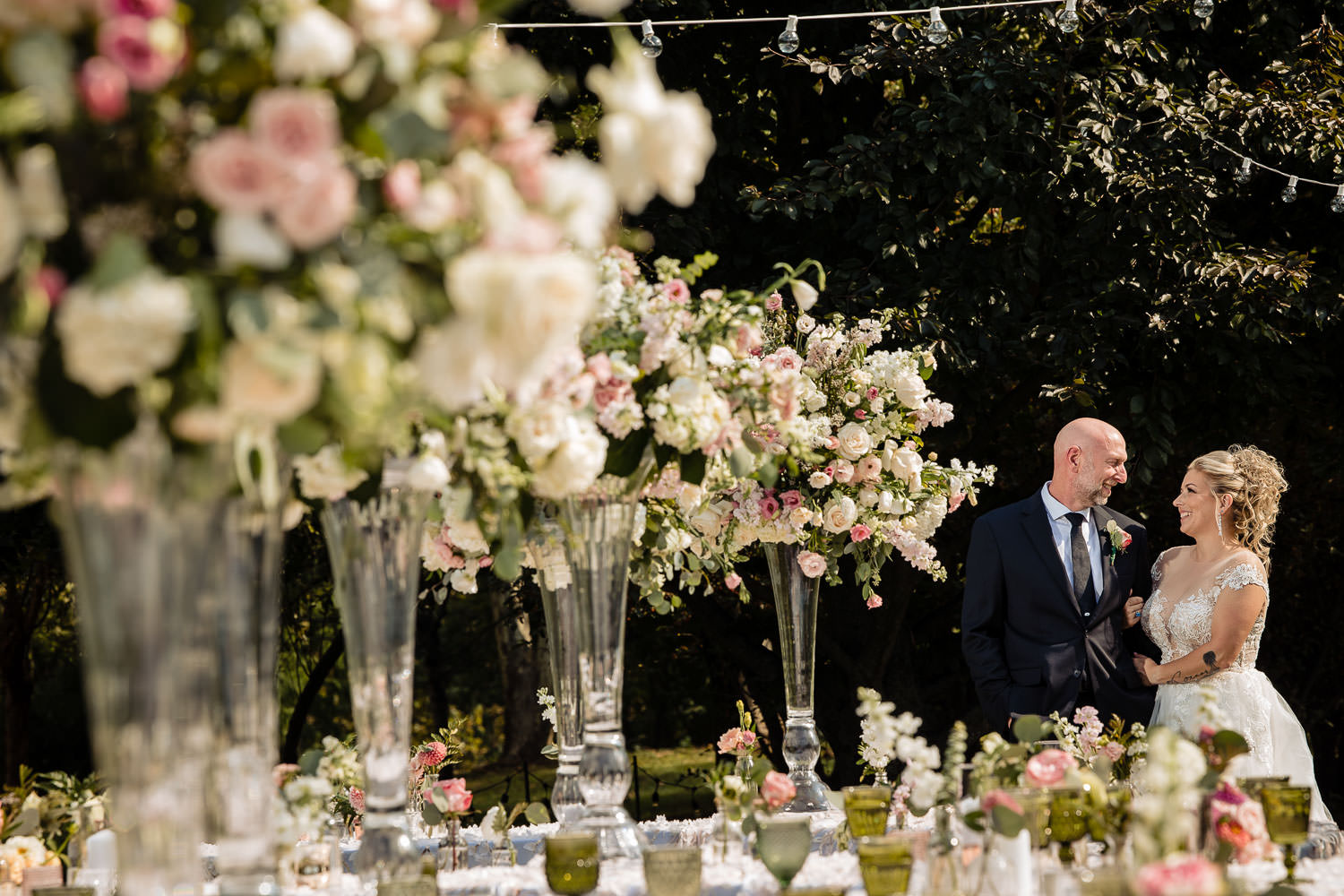 Decorations
Decorations are particularly important in backyard weddings to add romance, interest, or beauty to a space that might otherwise be a bit plain. These can include anything from centerpieces, candles, signs, and a wedding arch to little details like the wedding favors and table numbers. Decorations often tie into your wedding theme or colors or incorporate personal touches of you as a couple. While you can DIY most of your decorations, you should be aware that it can be a very time consuming endeavor. Not only do you have to make the decorations, you also need to put them up and take them down. If you're not particularly creative, it can be worth it to hire a wedding planner to bring your vision to life. You might opt for a wedding decorator or stylist, who will typically source or create whatever you need and set it out for you. There are also vendors who rent wedding decorations and lighting if you're looking for something less customized. Some florists also offer wedding decorations, particularly centerpieces.
Furniture
You'll definitely need tables and chairs for all your reception guests, as well as seating for the ceremony. But don't forget about the cocktail hour in between, or anyone who may want to drift away from the crowd during the reception. Several companies rent chairs and couches and even end tables and rugs to create lounge areas where your guests can relax in style. They offer many different aesthetics so you can match your overall vibe. Consider setting up a few different seating areas. If there's a nice backdrop behind them, all the better. Guests will enjoy taking candids there, and they're a great spot for some fun shots of the couple or the wedding party.
Lighting
The right lighting can really tie everything together and set the mood for the evening – not to mention create some magical shots. Strings of fairy lights can add romanticism, or maybe you prefer candles in mason jars or hanging lanterns. Whatever you decide, be sure there's enough light in all guest areas so everyone feels comfortable moving around, and make sure nothing causes a fire hazard.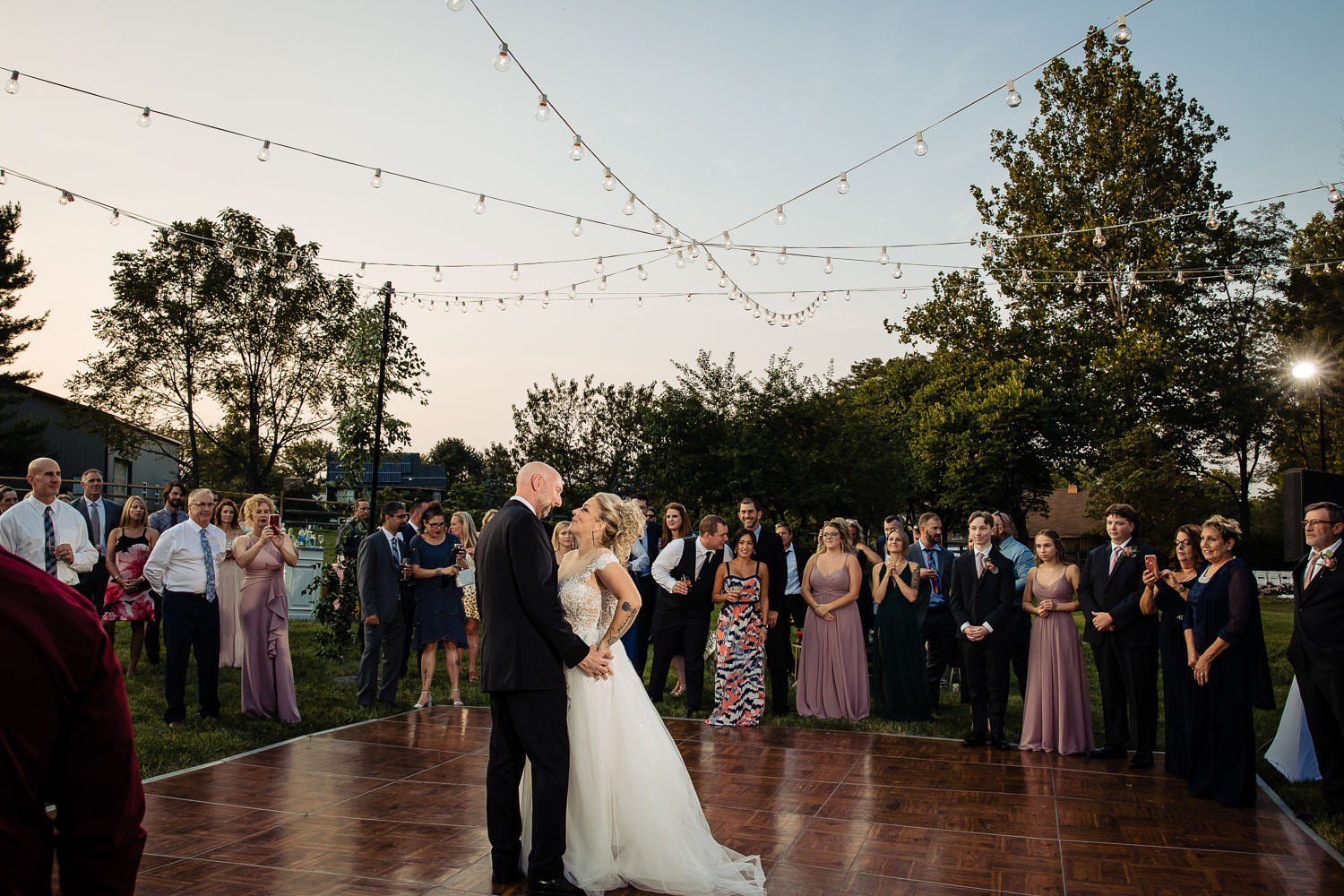 Create Different Areas Within Your Backyard
Instead of having one large open yard where everything happens, try to create different areas within the space for different aspects of the day. This creates movement and flow, and will help from a logistical standpoint. It also creates different backdrops that will add variety to your wedding photos. By switching up the furniture, decorations, and lighting, you can make it look and feel like you've moved to a different location, even if you're only a few feet away.
Take Advantage of What Makes The Space Unique
Don't lose sight of why you chose to get married in this particular backyard. If there's a nice view, perhaps you make that the backdrop for your ceremony, or take your formal portraits or first look photos there. Getting married in your personal or family home, or other personal space, also allows you to take advantage of sentimental details that may not be present in a venue you never visited until you started wedding planning. Perhaps you have a favorite spot on the property that you'd like to use for your couples photos. We also love taking getting ready photos in your own home, especially since you can pick a room with the best lighting and plenty of space.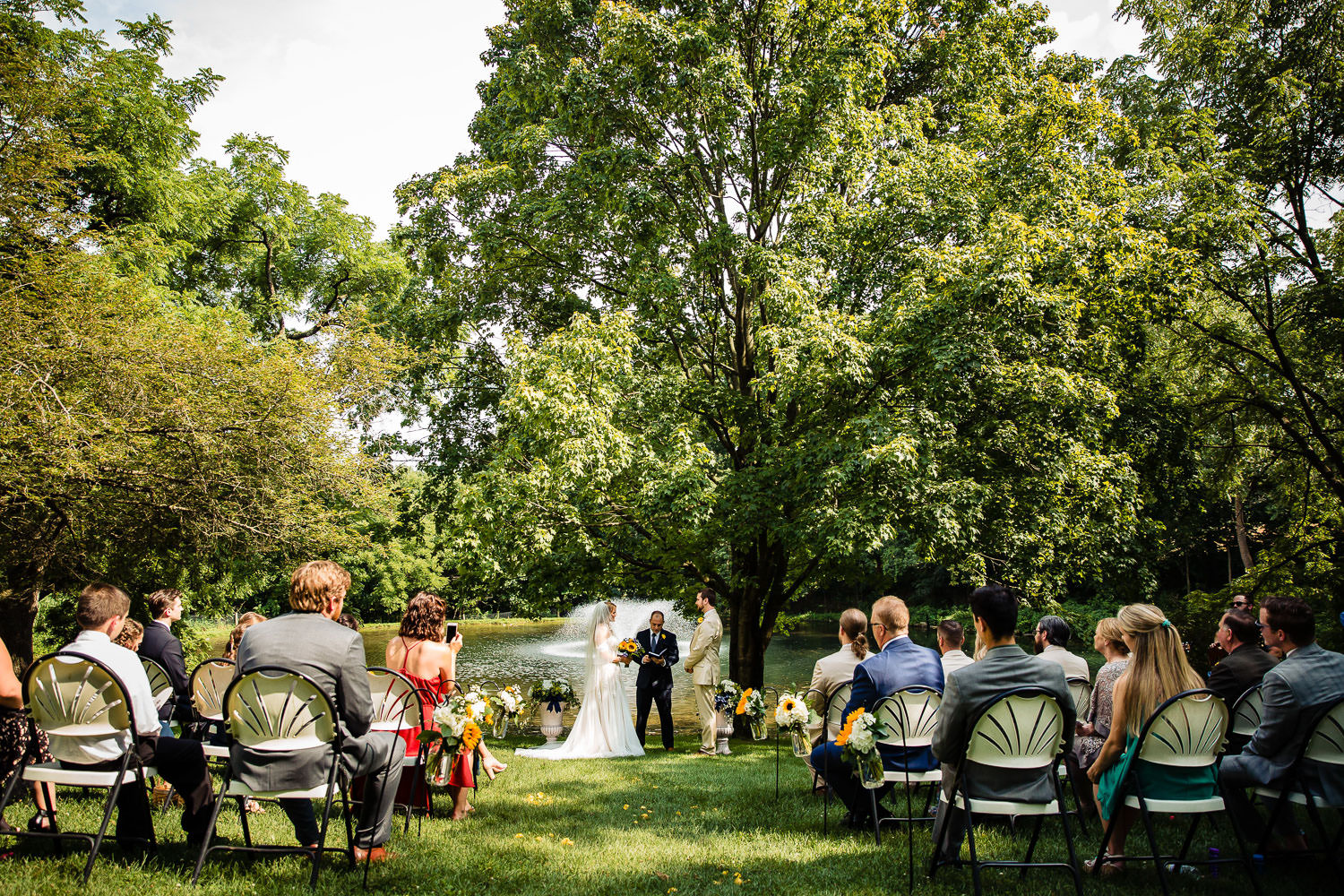 In Summary
Backyard weddings give you a chance to personalize your entire wedding experience and tell your own story. To help your photographer capture that story, use flowers, decorations, lighting, and furniture to create several visually interesting areas, and think about how you can incorporate a few sentimental touches.