At Morby Photography, our standard wedding packages include a 12×12 wedding album featuring all your favorite photos that tells the story of your magical day. Although you can order a la carte services that don't include a wedding album, we believe that purchasing an album is one of the best decisions you can make! This is one cost not worth cutting.
Are Wedding Albums Still Relevant?
They aren't just relevant, they are more important than ever! In a day and age where 99% of our memories live in the cloud, it is imperative that we print the images most important to us. While we are glad to be able to provide a gallery of digital files, wedding albums are timeless. Social media is a great way to share your photos with your third cousins or a former college roommate who lives across the country, but wedding albums serve an entirely different purpose. They exist as an heirloom for your family. Close your eyes for a moment and imagine the two of you, wrinkled and wise, watching as the newest young ones in the family gather around to look through a beautiful handcrafted album that tells of a love story during a time before they were born. Many people have cherished memories of looking through their parents' or grandparents' wedding albums and listening to stories about the happy occasion. We want the future generations in your family to have that experience too!
But this is not your grandparents' album. Instead of prints tacked onto cardboard pages you'll receive a handmade, custom-designed book printed on archival paper and made in the USA that beautifully displays the photos of your day. You've invested in photography because you know how important it is to commemorate your wedding. A wedding album is a wonderful keepsake that showcases every special moment in a high-quality, accessible way.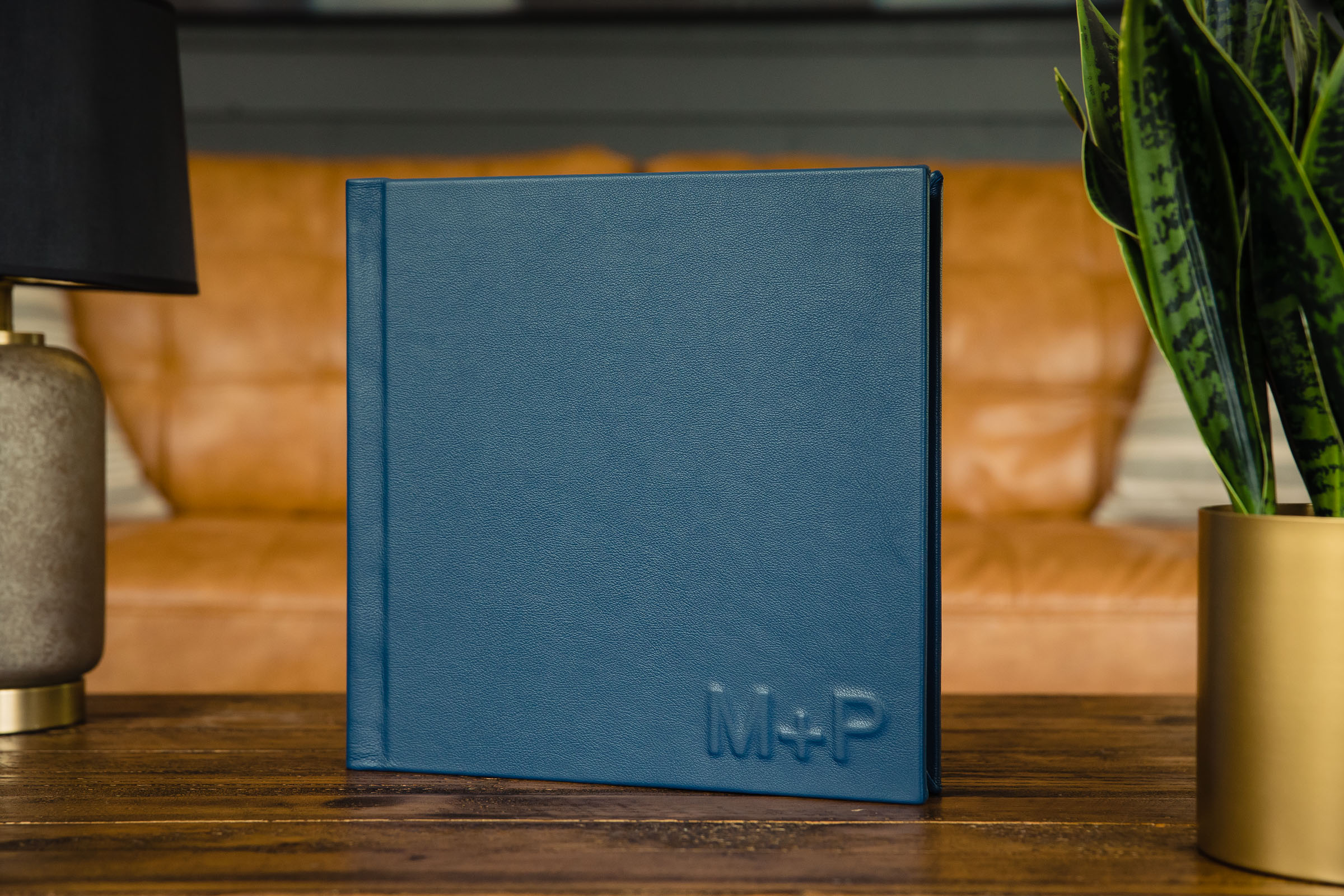 Wedding Albums Outlast Technology
Technology is changing rapidly, but wedding albums stand the test of time. Just in the last ten years, wedding photographs went from being stored on DVDs to USB drives to online albums. Now most computers don't play DVDs. The way we store photos today may not be how we access them in 5 years, let alone 50. A wedding album is a physical backup of your photos, which can't be destroyed by viruses or crashing hard drives. (Morby Photography backs up all album pages digitally in case of damage to your album!) You'll be able to page through your album together for the rest of your lives, no matter how much the world changes. The couples we photograph tell us of the joy they receive of sitting together on anniversaries and remember their day together as they page through their album.
Wedding Albums Tell a Story
Scrolling through your complete gallery can be overwhelming. A wedding album tells the story of your day using your favorite shots. Our album designer will work with you to create something truly exceptional and one of a kind. With our expertise and your direction, together we'll create something you are proud to show off for years to come which truly captures the flow, feel, and spirit of your wedding. Our goal is to make sure your wedding album invokes the same emotions from you in 30 years as the first time you looked at it.
The Morby Photography Wedding Album Process
When it is time to create your wedding album, Laura, our in-house album designer, will reach out to you. She will talk through your favorites moments of the day, answer any questions about the album process, and inform you how to best communicate your must-have images with her. From there, Laura will go through all of your images of your wedding day and choose the ones that take the viewer through the story of your wedding day.
Once she has completed designing the album, you'll then schedule a video consultation with Laura. She will then go through your design with you, making any changes you request. As you know, your album already comes with 10 spreads which can comfortably fit 50 images. However, to tell the most complete story about your wedding day, many of our clients opt to add additional spreads. Some add two while others add 20. To give you an idea of what to expect in cost, an additional spread is $100. You can also decide on any cover upgrades, such as adding a cameo window, embossed lettering, or raised initials. Covers come in leather or linen in a variety of colors. Once the design is finalized, your album will arrive at your door in 3-4 weeks in a protective presentation box.
We also offer parent albums in our upgraded packages so your parents can commemorate your special day too. Parent albums are 10×10 and start with 20 pages. We will meet with your parents to help them design their own album filled with their favorite moments.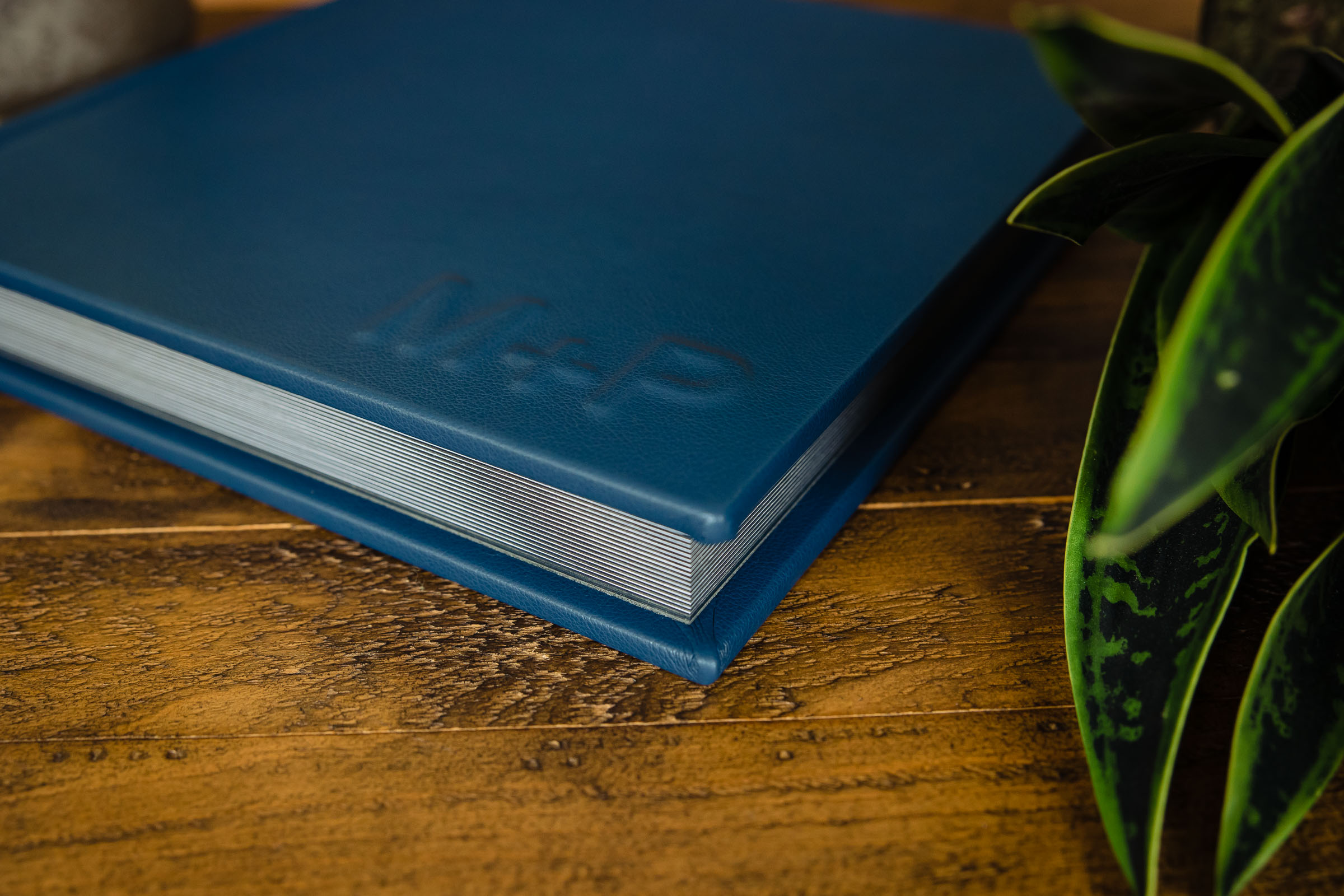 Can't I Do This Myself?
On occasion, we will receive this question. First, keep in mind that our standard packages include an album.
There are absolutely other ways to create your own album. In our experience, however, most couples do not return to make an album on their own, even if they intend to. Life gets busy. By the time you get back from the honeymoon and write all those thank you notes, do you really have the time to take on such a massive project? Creating your own album means you need to sort through all your photos and choose every layout and placement yourself.
You might find cheaper options online, but after you've invested so much in professional photography, why settle for an amateur presentation? The print and paper quality of budget alternatives won't begin to match what you will receive from Morby Photography. Not to mention the benefit of our album designer's expertise. You may save money, but you'll invest a lot of time on something that's not as nice as it could be. Unless you're passionate about the design process, we recommend letting us handle it.
In Summary
We know you're spending a lot on your wedding, and we're honored that you chose Morby Photography to capture each special moment. We want to make it as easy and convenient as possible to enjoy your photos and relive the magic of your wedding over and over again. A custom designed wedding album is a tangible keepsake that the two of you can look back on throughout your life together and share with generations to come.