At Morby Photography, we try to end each wedding shoot with a few night shots whenever possible. Night shots add a magical, romantic, and dramatic touch to your wedding album and give us a chance to use our skills and creativity to capture something mesmerizing. We're excited to help you turn a quiet moment together into a timeless memory that you'll never forget.
Why We Love Night Shots
There are so many reasons to love night shots, but here are three of our favorites.
Creativity + Drama = Magic
Morby photographers love creative angles and dramatic lighting. Night shots give us the chance to play with both to create some truly magical images that are romantic, unforgettable, and visually striking! While we typically prefer to stand back and capture events as they naturally unfold, night shots are a chance to put our skill and artistry to work to create something truly unique.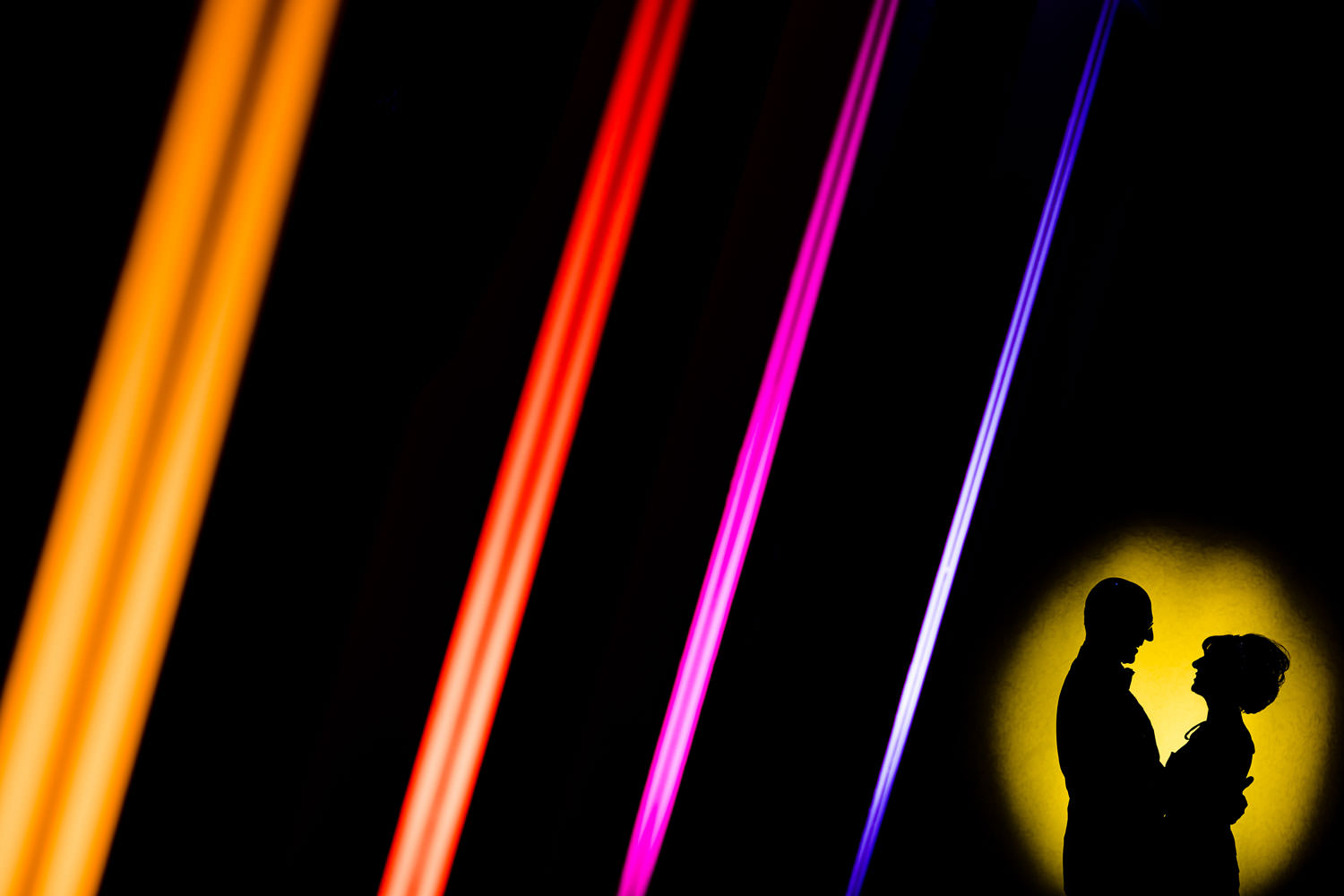 They Give Couples a Quiet Moment Alone
Night shots give couples a chance to step away from all the noise and excitement of the reception and enjoy some quiet time together. We'll work efficiently, as always, to get you back to the dance floor as quickly as possible. But we hope you'll enjoy the break from all your guests. This is a great chance to reconnect with each other and reflect on your wedding day.
Night Shots Are a Stunning Way to End Your Wedding Album
All Morby wedding packages include a printed wedding album. A night shot or two makes a stunning conclusion to your wedding story. A final, artistic night shot is a unique, artistic way to showcase your love and represents the chronological end to your special day.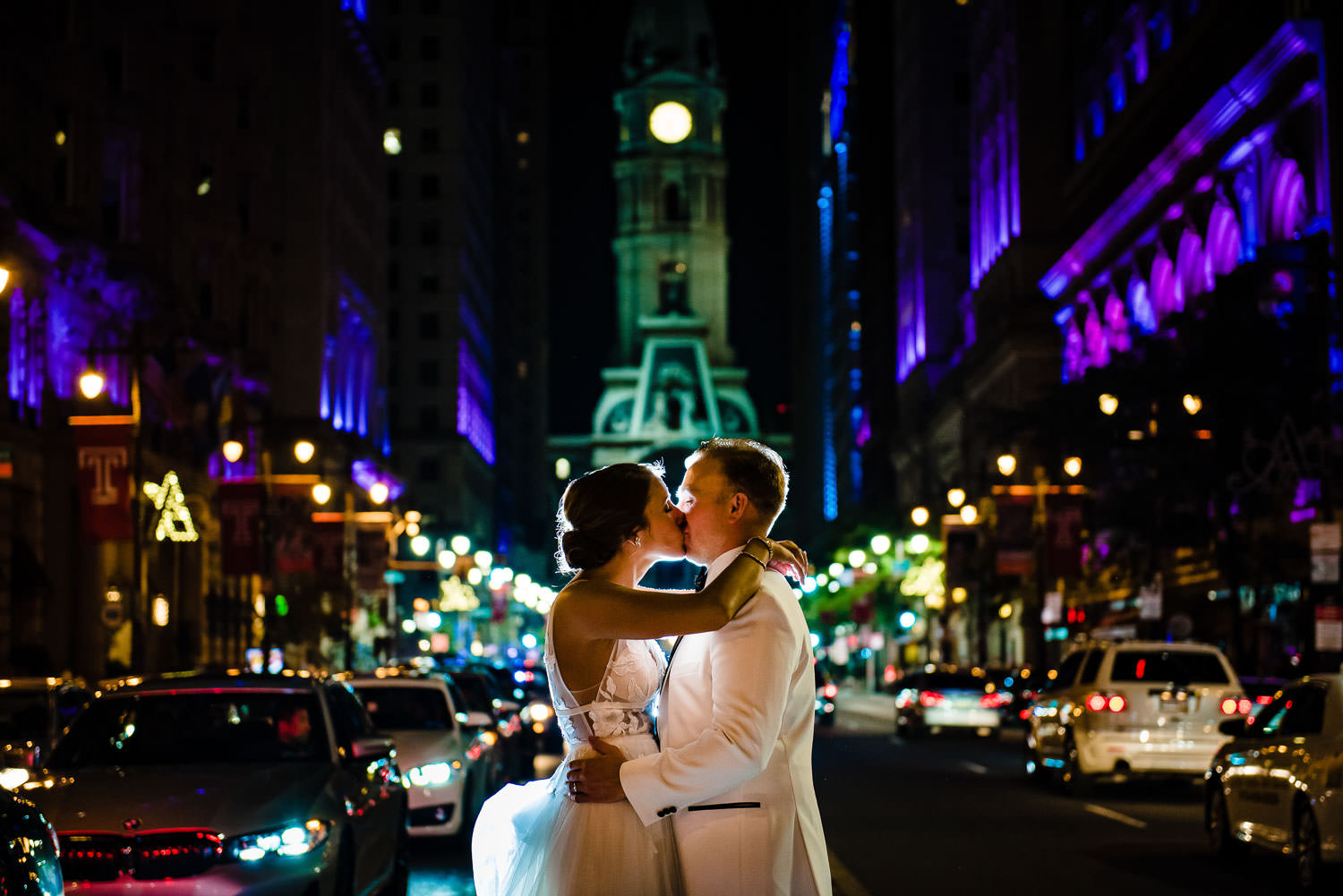 What Makes a Great Night Shot
The Perfect Setting
Once we get to your reception location, we'll scope out an indoor or outdoor location that will let us create a photo with silhouette, double exposure, back lit, or front lit night shot. This could be a doorway, some trees, a gazebo or any type of arch or columns. This adds visual interest while often helping us control the light. These frames may also serve as a reminder of your venue, as they're often unique to the space.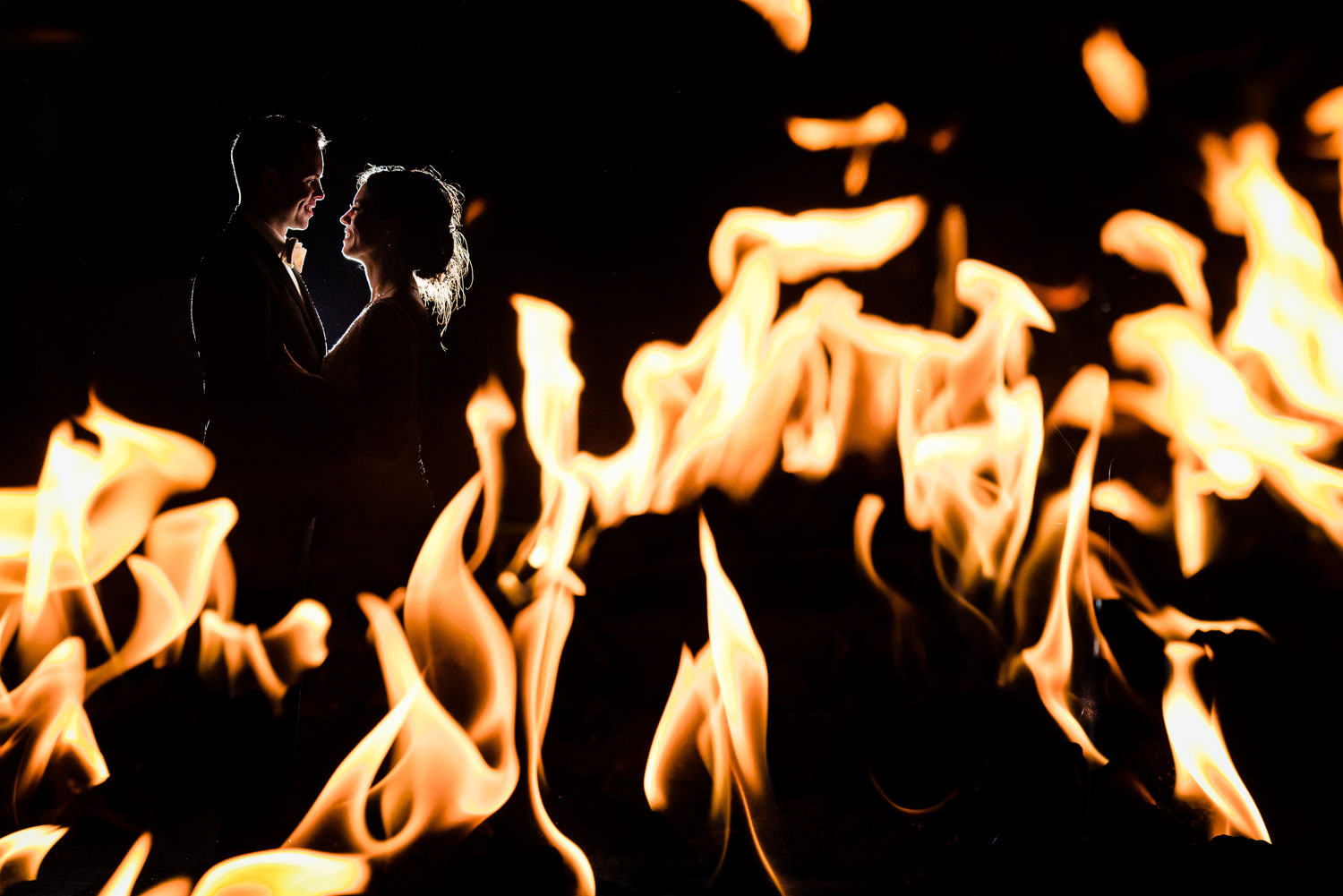 Existing Light Sources
All Morby photographers are experts with off camera flash, and we'll put those skills to good use. But we love when we can incorporate an existing light source into the photo for added ambiance and drama. Oftentimes this will be fairy lights, but it might be a lighted fountain or even a fire pit. On a clear night in the country, we can sometimes capture the twinkling stars. In a city, we might incorporate streetlights. And of course, if you're doing a sparkler exit or setting off fireworks, they'll be a focus as we document those wondrous moments.
Rain
We know you're probably hoping for no rain on your wedding day. But it's not such a bad thing if there's a little sprinkle towards the end of your reception. The raindrops catch the light and make everything sparkle. Whether with an umbrella or embracing the rain as it falls, we can create a fun image that shows you won't be deterred by whatever life throws at you.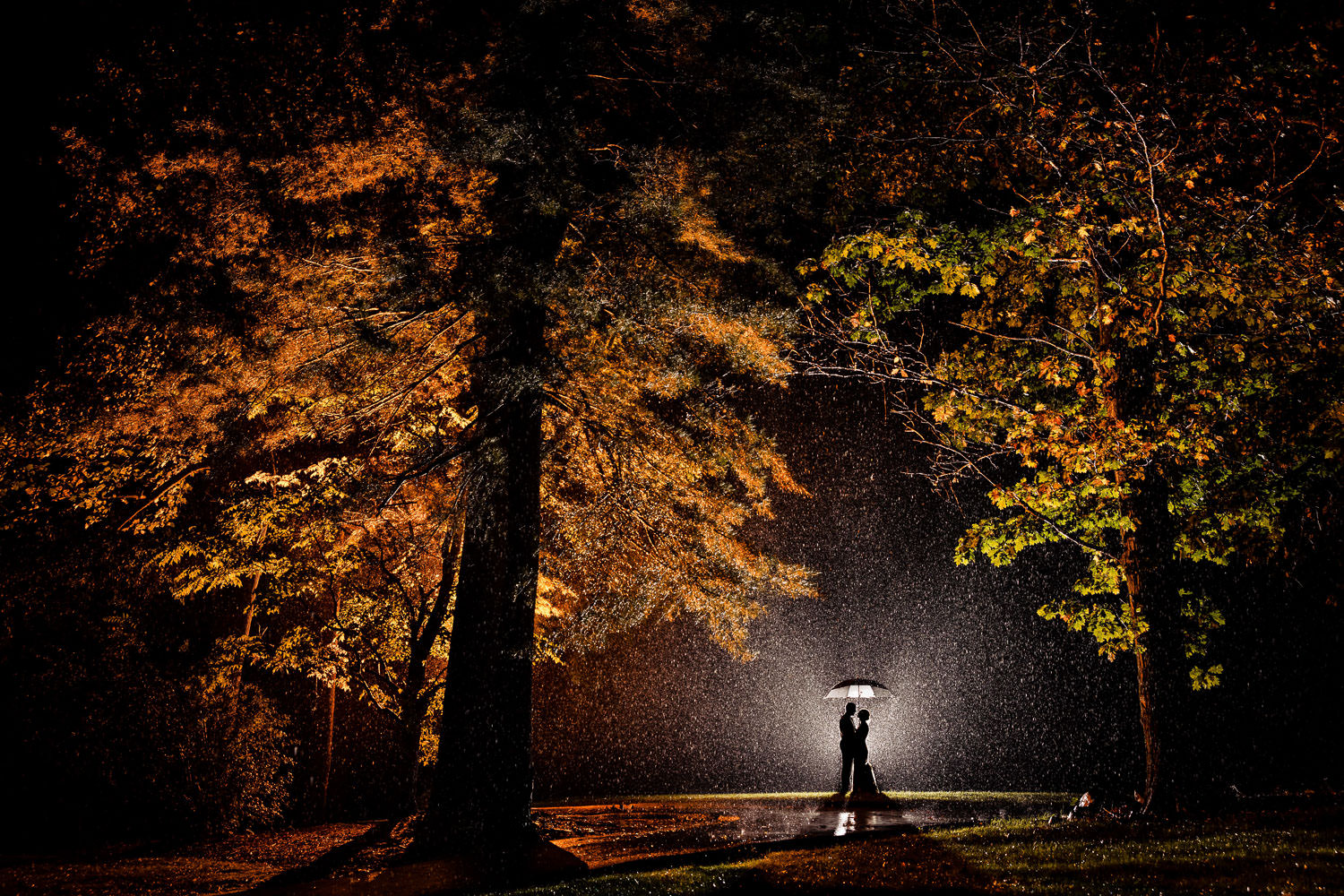 Water
Standing water – whether that's a puddle or a lake – reflects any available light and can create some truly marvelous images. This can be another great way to make the best of recently rainy weather, or to showcase a special feature of your venue.
Pose
We promise to help you with the perfect pose for your night shots! Often we start with the couple looking at each other, with their heads almost touching. We may follow that with some shots of you sharing a kiss, and maybe one of you lifting or dipping the other for a little extra drama.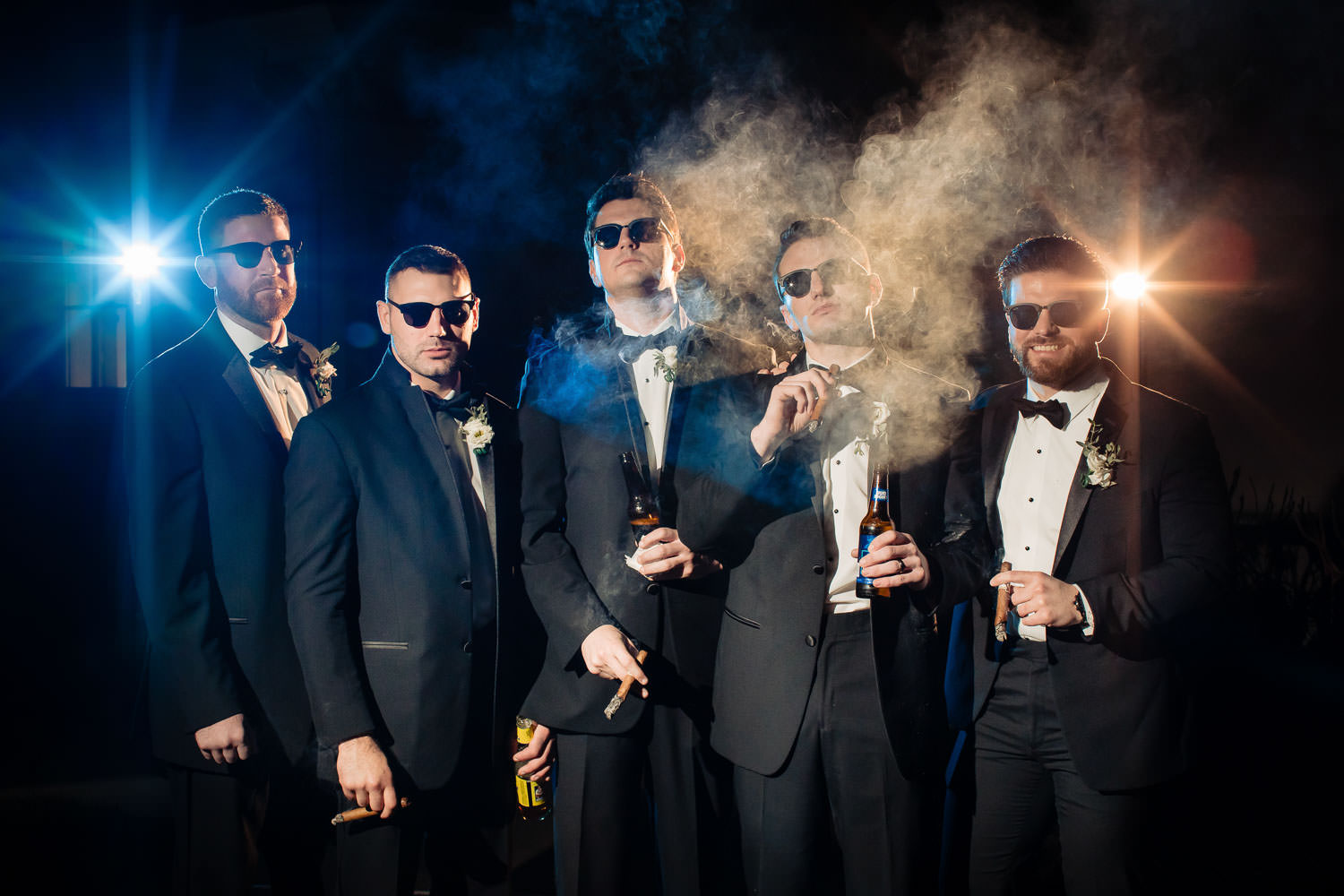 Let Morby Plan Your Perfect Night Shots
Night shots end your wedding on a high note, photographically speaking. They provide a magical and conclusive end to your online wedding gallery and printed wedding album. They also allow Morby to use our creativity and knowledge of light and shadow to create some unforgettable images for you to cherish. If it's not quite dark yet or there's an existing light source we want to showcase, we may do a silhouette shot that captures your profile. Sometimes we use flash to light you up while most of your surroundings are dark. Either way, we hope you'll let us take this final opportunity to capture the spirit of your venue and the emotion of your love.