We love holiday weddings! While all weddings are magical, incorporating a favorite holiday into the festivities can add an extra level of enchantment. Scheduling your wedding on or near a holiday provides both opportunities and challenges. But a few simple additions to your decor can lead to stunning images that perfectly encapsulate the spirit of your holiday wedding.
Holiday Wedding Possibilities
When some people hear "holiday wedding" they immediately think of Christmas. While Christmas themed weddings are popular, there are many other holidays to choose from. You might start your new life together with a glittering New Year's Eve wedding. Add a patriotic flair to a 4th of July wedding. Take advantage of a long weekend for a Memorial Day or Labor Day wedding. Or if you want something a bit out of the box, Halloween weddings can be a lot of fun.
No matter which holiday you choose, it's important to consider how you'll work that holiday into your festivities, and the challenges and opportunities a specific date will create for your guests and while booking venues and vendors.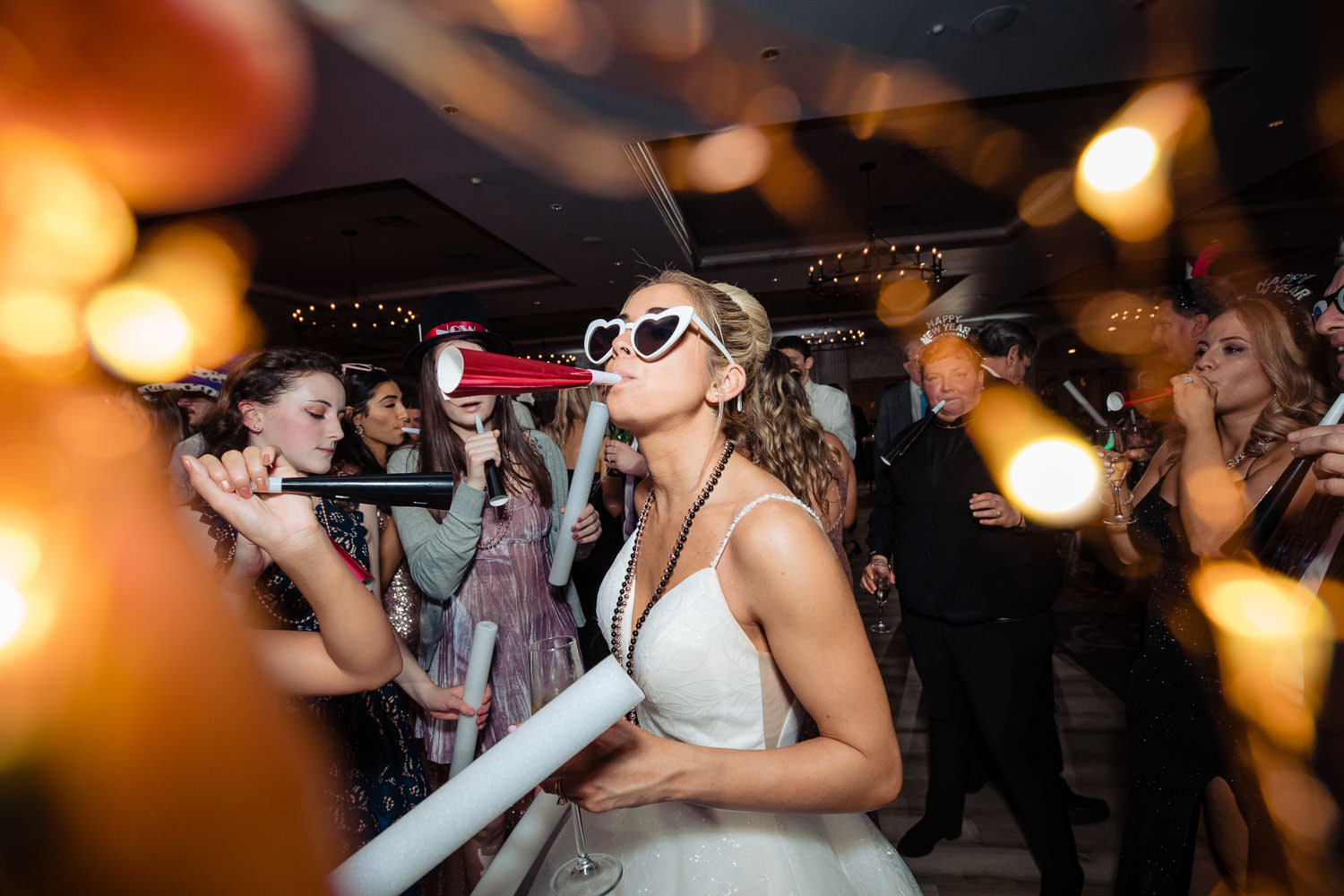 Scheduling Considerations for Holiday Weddings
Most holiday wedding challenges relate to scheduling logistics. Before you commit to a holiday wedding, you should consider the following.
Holiday or Holiday Adjacent?
Holiday weddings are often more convenient for some guests and less convenient for others. You should first decide whether you want to hold your wedding on the actual holiday, or just during that particular season. For example, it's probably unwise to hold your wedding on Christmas Day, unless it's a small ceremony and you know your friends and family won't mind. But you could choose a Saturday in December and still incorporate Christmas elements. Or you might choose to have your wedding Memorial Day or Labor Day weekend specifically because many guests will have Monday off and could benefit from an extra travel day if they're coming from out of town.
Guest List Impact
When scheduling your wedding on or near a holiday, it's important to recognize that guests may already have plans they're unable or unwilling to change. Some people have annual traditions around holidays that they may not be willing to sacrifice, or book vacations well in advance. Others will be thrilled to celebrate their holiday with you and may find it more convenient if they already have some time off. It's best to send out save the dates as early as possible to inform guests before they commit to other plans. But you should accept that some guests may miss out on a holiday wedding they otherwise would have attended.
Travel Considerations
If you have a lot of guests traveling for your wedding, they may appreciate it if your special day takes place during a long weekend or when they have additional time off work. However, traffic may be worse, and airfare tends to be more expensive around holidays since more people are traveling. If you're getting married near your hometown and inviting a lot of people you grew up with, you may be able to capitalize on a time when many people travel home anyway – such as right after Thanksgiving or Christmas. But this may be less convenient for those who are celebrating those holidays elsewhere.
Vendor Availability
You should also consider the availability of your preferred venue and vendors on any particular holiday. While some wedding venues might be "off season" during the holiday you've chosen, you may be competing with holiday parties looking to use the same space. Caterers may be busy with parties as well. Depending on the holiday, some vendors may be unavailable because they are taking time off to celebrate or there may be an additional charge for holiday dates. Book your vendors as early as you can, but understand that some might be unavailable or will charge more.
Extreme Weather Concerns
Don't forget about the weather! In Pennsylvania, snow and ice are possible during winter holidays such as Thanksgiving, Christmas, and New Year's, which can make it difficult for guests to travel and may also make it challenging to take outdoor photographs or have an outdoor ceremony. Even on a dry day, it may be extremely cold. We've gathered some tips on how to plan for winter weddings. Summer holidays like Memorial Day, Fourth of July, and Labor Day can be stormy, rainy, or uncomfortably hot. It's always best to have a backup plan for inclement weather just in case.
Preparing for the Perfect Holiday Wedding Photos
Once you've booked your holiday wedding venue and sent out your save the dates, it's time to decide how to incorporate the holiday spirit into your wedding. While each wedding is as unique as the couple that throws it, we have some suggestions on how you can help your photographer capture timeless yet festive images to remember your special day.
Embrace the Holiday Without Going Overboard
If you're getting married on or near a major holiday, guests will probably expect that holiday to be acknowledged in some way. But you don't want your wedding to seem like just another holiday party. This can be a fine line to walk. It helps to keep your relationship and not the holiday in the forefront. For example, you probably don't want to play only Christmas music at your reception, even if it takes place on December 26th. But you should incorporate the holiday in ways that enrich your wedding, rather than out stage it. Since many of these ways involve color, lighting, and decor, they will shine through in your wedding photos.
One couple found a unique and heartwarming way to integrate the holiday season into their wedding without overshadowing the significance of their union. They decided to invite Santa Claus to their reception! Santa himself handed out presents at the wedding to the delight of children and adults alike. The couple's choice to bring in Santa was not just a whimsical decision; it was a reflection of their shared values and love for the holiday season. It allowed them to honor a beloved tradition while creating a unique and memorable experience for their guests.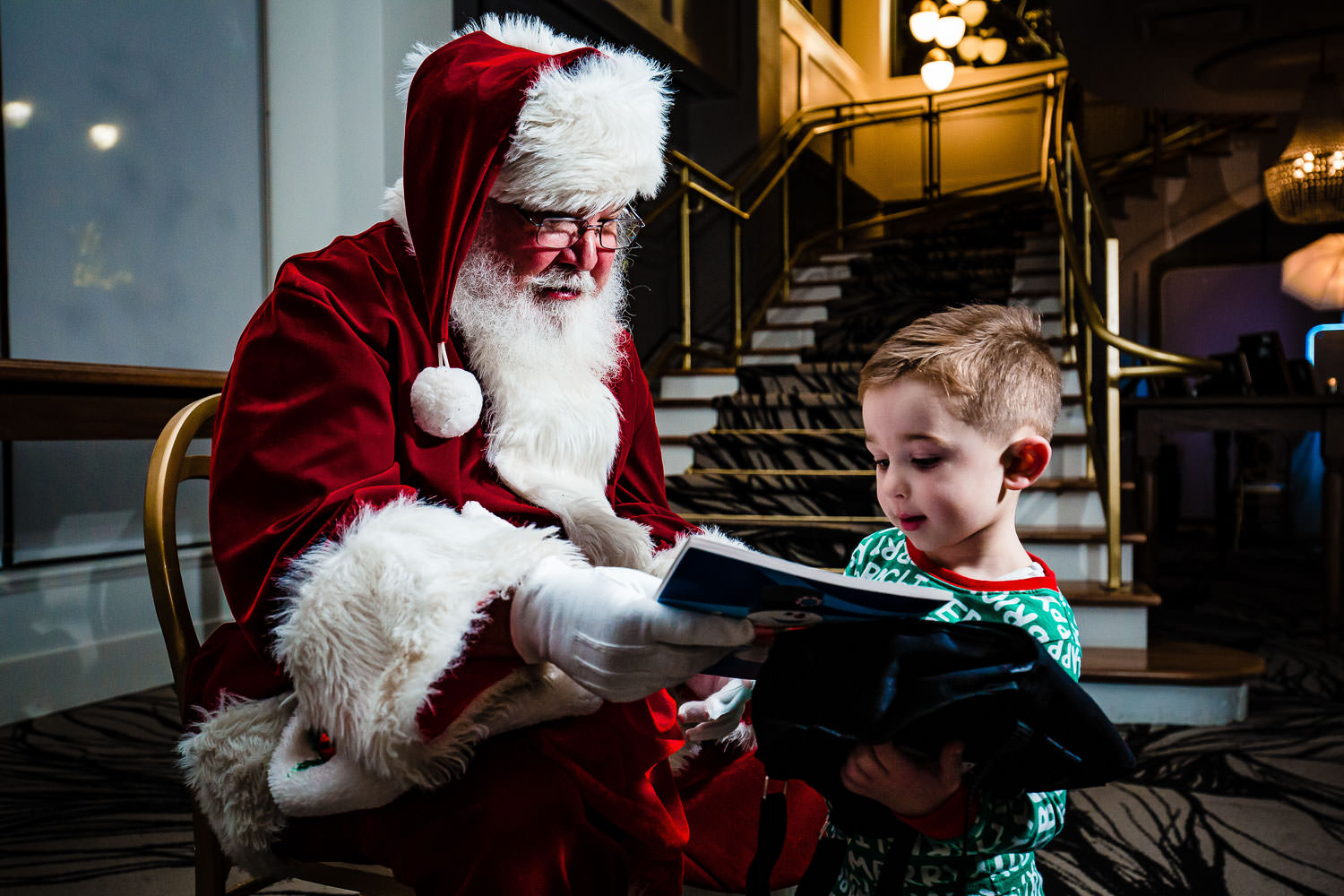 Choose Your Wedding Colors Carefully
There's no need to make your wedding colors too on the nose. Again, your wedding is about you and not about the holiday itself. You don't need to put your bridesmaids in orange if you have a Halloween wedding, or stick to red, white and blue for any patriotic holiday. Consider choosing colors that give at least a subtle nod to the holiday, or at the very least won't clash with any holiday themed decor. You may want to think about seasonal trends, and also what will photograph well in that particular season. For example, if you're taking outdoor photos in winter, a pop of color like emerald green or wine red will look especially striking against a potentially dreary sky and dead foliage.
Add Festive Decor
Adding Christmas trees or holiday specific decor can really help fill out your venue and allow for some great backdrops. We especially recommend decorating next to or around the sweetheart table. That means that the theme will be subtly incorporated into all candid couple shots during the reception. You might add something festive to your guestbook, centerpieces, and favors. There are so many fun and creative ways you can lean into a holiday theme while keeping with your preferred tone. If your ceremony takes place in a church, it may already be decorated for Christmas (or other holidays), which may allow you to save on your decorating budget. You might be able to take advantage of lights or decorations at other venues as well.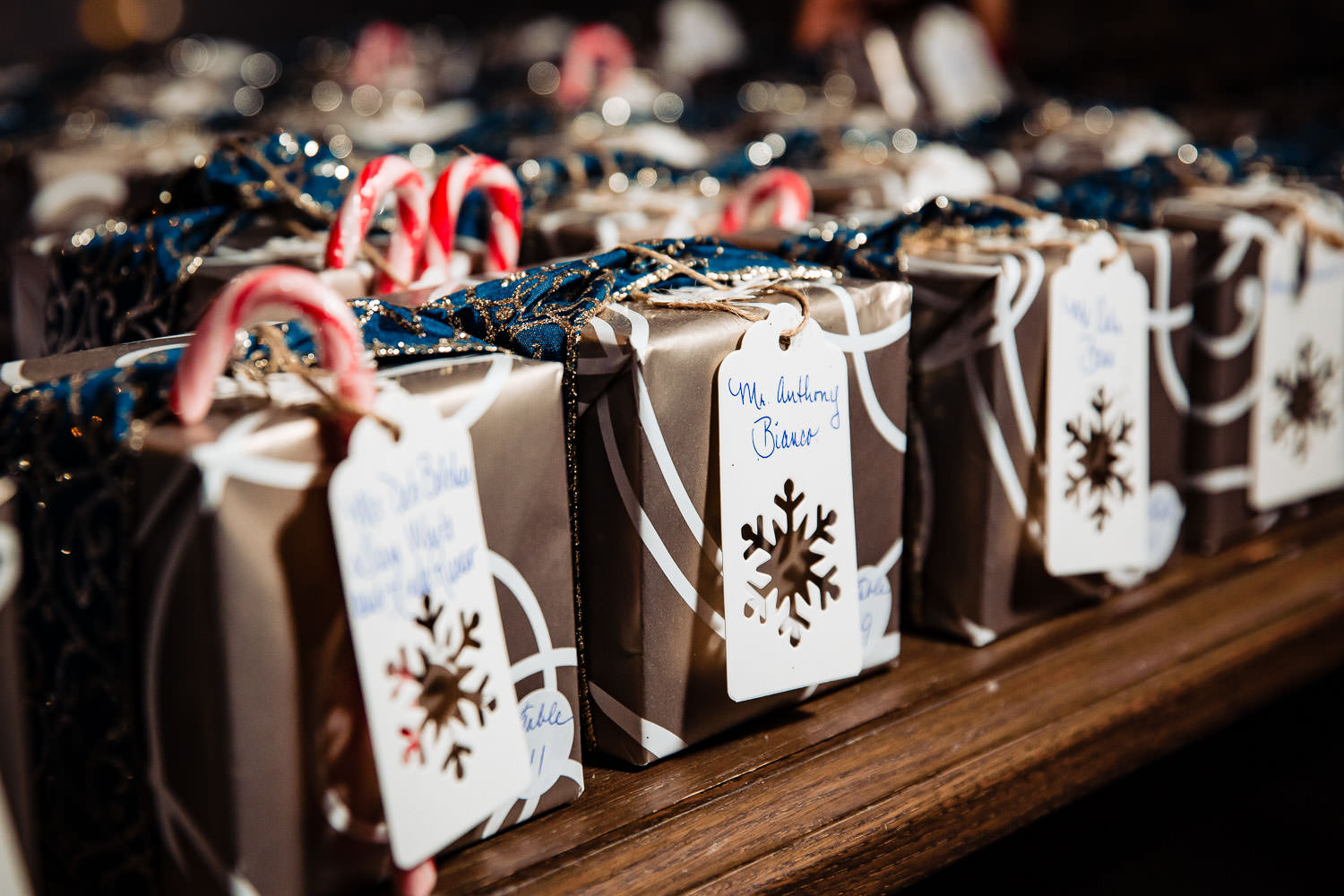 Choose Holiday Flowers
Flowers and seasonal plants can be a great way to incorporate the holiday into your wedding and add color and interest to your photos. This can be as subtle or obvious as you like. For a Christmas wedding, you might stick to red flowers, or you might use poinsettias as centerpieces. For winter weddings, consider decorating with seasonal plants like pine boughs, holly, and mistletoe. For a Thanksgiving wedding, consider mumms or sunflowers. Flowers that are in season tend to be fresher and less expensive as well – a double win!
Use Festive Lighting Selectively
Lighting creates a festive atmosphere which can shine through your wedding photos. A lit Christmas tree or a thematic lantern can provide light in the foreground of reception shots. But lighting can also cause some photographic challenges. An abundance of string lights can make a space feel like a Christmas village, but some light stands might create shadows on people or the backdrop if they're not well placed. Keep in mind which areas are likely to be heavily photographed and be aware how the lighting may hinder or enhance those photos.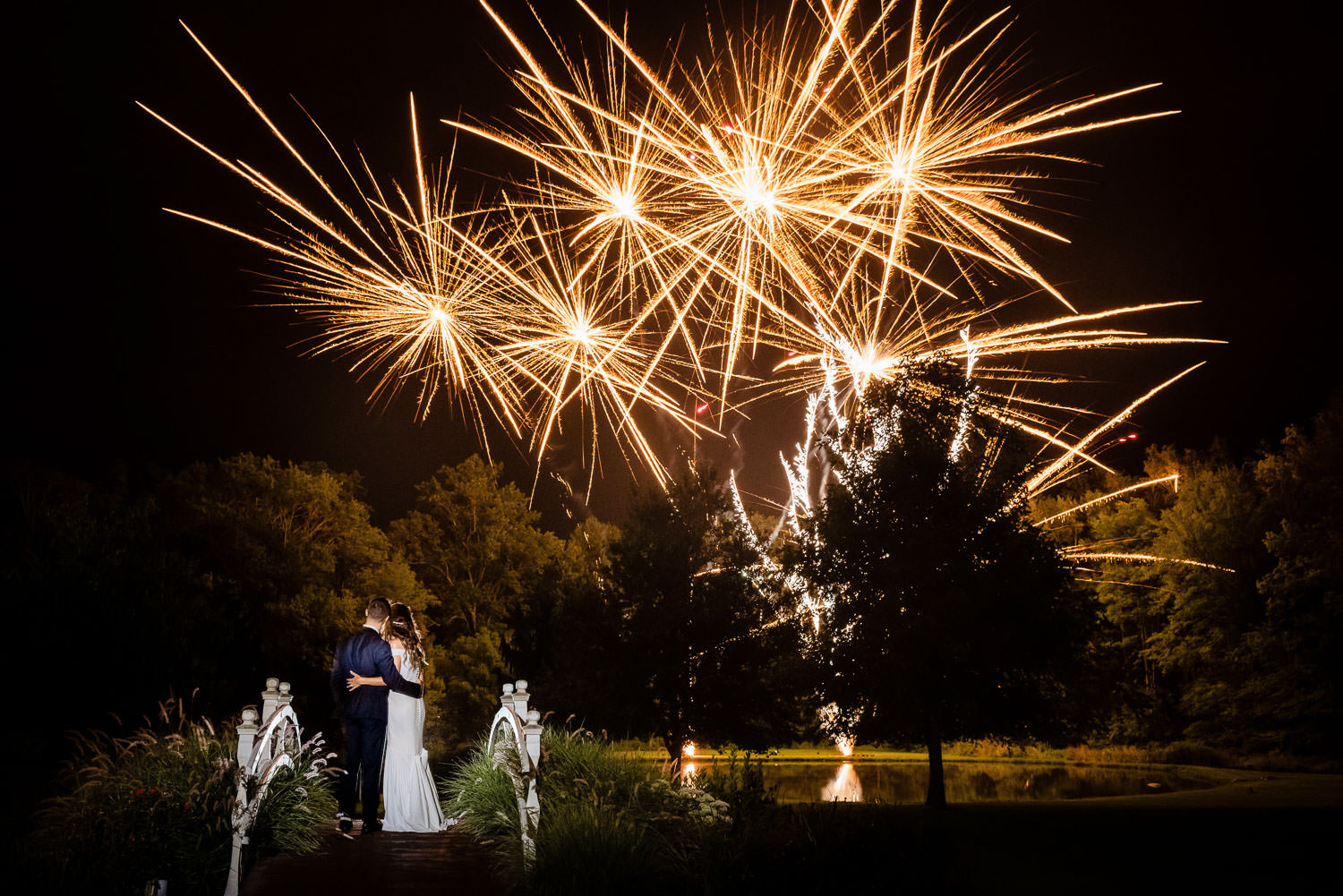 In Summary
Your wedding should be about you, but adding a holiday element can make your big day even more festive and give everyone a reason to celebrate. Once you've thought through the scheduling logistics, add little holiday touches to delight guests and shine through every photo.