At a wedding, the First Look is the moment the happy couple sees each other for the first time in their wedding attire. Traditionally, this happened at the start of the ceremony when the bride walks down the aisle. Many couples now opt for a private First Look with their photographer, which takes place before guests arrive. While this is a personal decision each couple must make, there are several ways that a staged First Look can improve your wedding photos and make the whole day go more smoothly.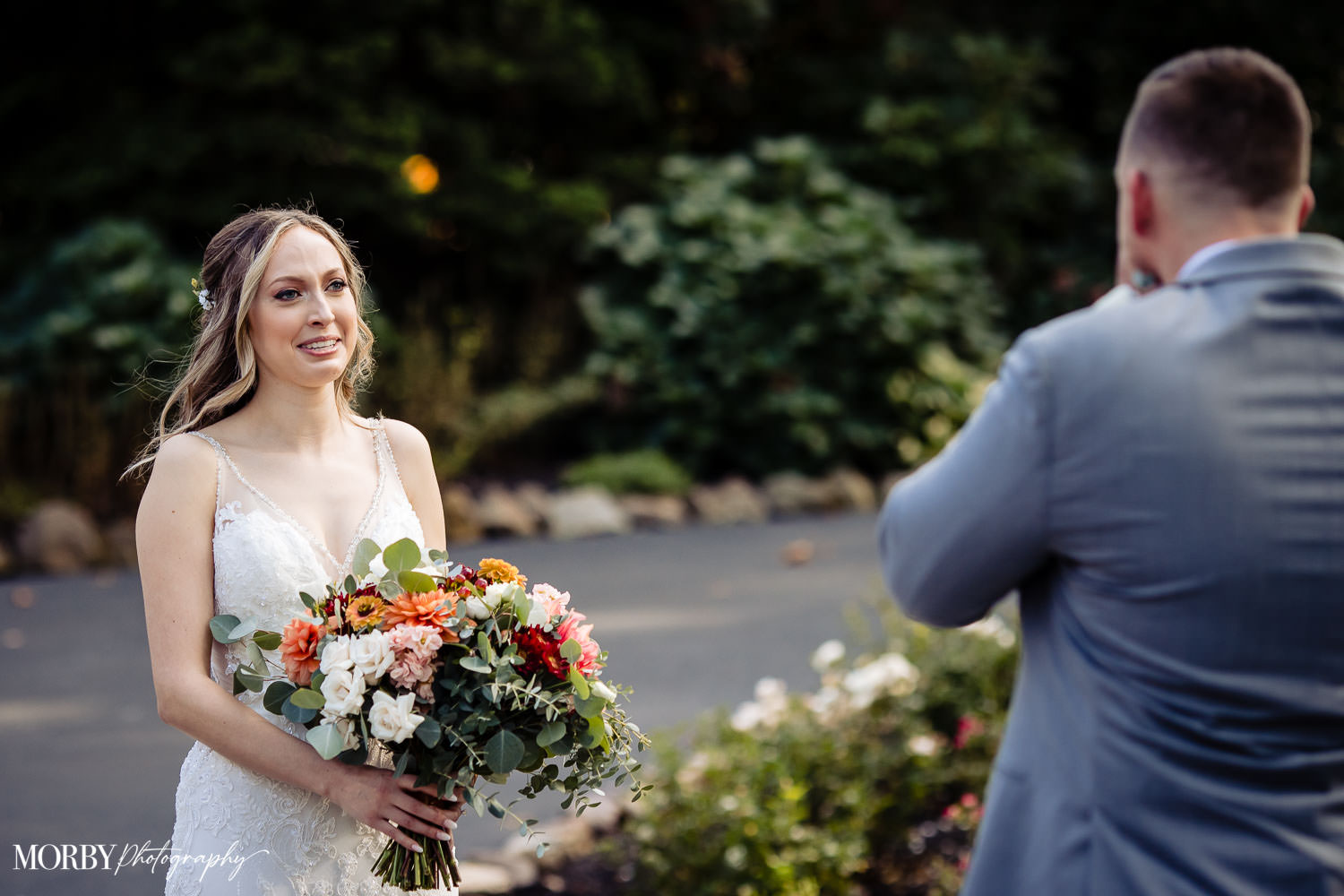 First Look Photos Capture Your Raw Emotion – Together
Seeing your soon to be spouse for the first time is often an extremely emotional moment. During a traditional ceremony, the couple first see each other from opposite ends of the aisle. You need two photographers to capture both expressions simultaneously, but even then they won't be in the same photo.
First Looks allow photographers to set up shots that clearly and organically show both halves of the couple and beautifully capture their emotion in the moment of reveal. Without all your guests watching, this moment becomes private and intimate and can last as long as you like. First Looks allow you to spend some time alone as a couple before the rest of your guests swoop in.
You Choose the Setting
First look photos can be truly epic, because you get to choose the setting. Indoor, outdoor, a place that has personal significance to you and your fiance, or one overflowing with natural beauty. You can also entrust your photographer to find a prime location for this special moment to unfold. Your first look photos can truly show off your personality as a couple. If getting the best possible photographs is a priority on your wedding day, a first look can help make that happen.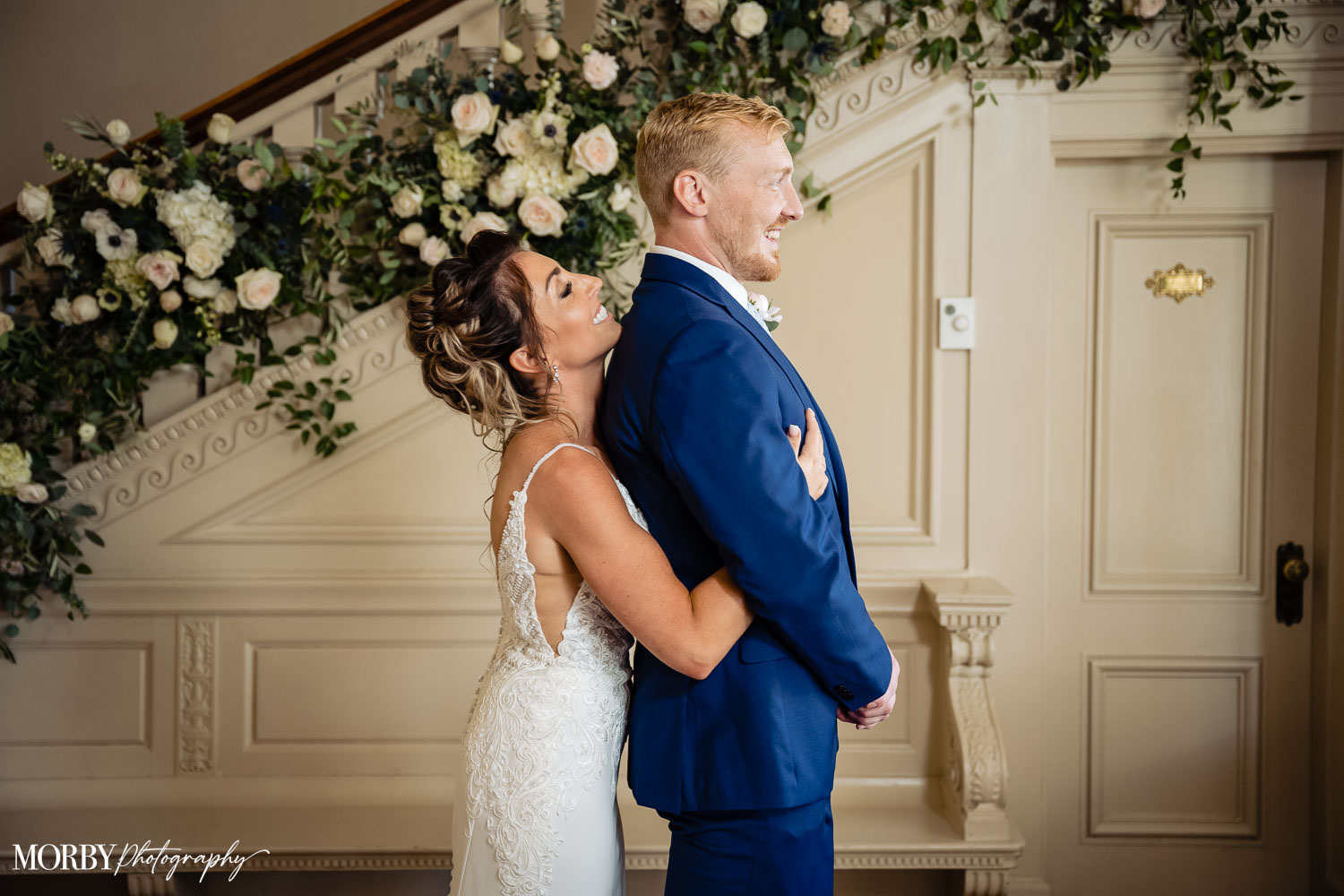 You Look Your Best In All Your Photos
First Look photos typically happen right after the couple finishes getting dressed, so every hair is in place and makeup is fresh. Since most couples then take their wedding party and family portraits after the First Look, this means you will look your best in all your formal photographs. If the bride does get emotional, she has time to fix her makeup before the rest of her day.
Take Advantage of Better Lighting – and More Time For Photos
Having a First Look often means better lighting for outdoor photos and more time to get all the shots you want. For many spring, fall, and winter weddings, there is a limited amount of time after an afternoon ceremony before the sun starts going down, and any delays can leave you with even less light. The number of photos you can take is also limited by how long you're willing to keep your guests waiting before you arrive at the reception.
If you do a First Look followed by all your formal portraits, you can decide how much time you want for your photographs and plan accordingly. No one is waiting on you – beside your wedding party and close family. This is especially helpful if you have a bit of a drive to wherever you'd like to take your photos but don't want to skimp on the number of shots.
You Get to Enjoy Your Cocktail Hour
While your wedding party may need to wait around before the wedding, taking your photos before the ceremony means that they don't have to wait around afterwards, and can enjoy the cocktail hour with the other guests. Even better, so can you! This gives you more time to interact with your friends and family, take candid photos with guests, and enjoy the delicious snacks and beverages that you've chosen.
When you take your photos before the ceremony starts, your wedding day tends to go smoother. There are fewer opportunities for delays and the added stress they cause. You can enjoy everything you've planned knowing that you've already captured the emotion of the day and how fabulous everyone looks in their wedding attire.
Get Out Your Jitters
Many couples find that First Looks reduce their pre-wedding jitters. They get to carve out some alone time during a hectic day and then face the rest of their wedding together. This can also help if you're worried about crying – or not crying! – in front of your guests. During a First Look your only focus is on your future spouse, not the hundreds of people watching you. Having a private moment with your love can help combat any stage fright you might feel.
And if you're feeling nervous about being photographed – or whether the weather will cooperate – you can get that out of the way so once the ceremony starts you can be fully present in the moment.
Taking Your First Look One Step Farther
Beyond the standard First Look between the happy couple, there are several twists you can incorporate to make the most of your photography time before the wedding.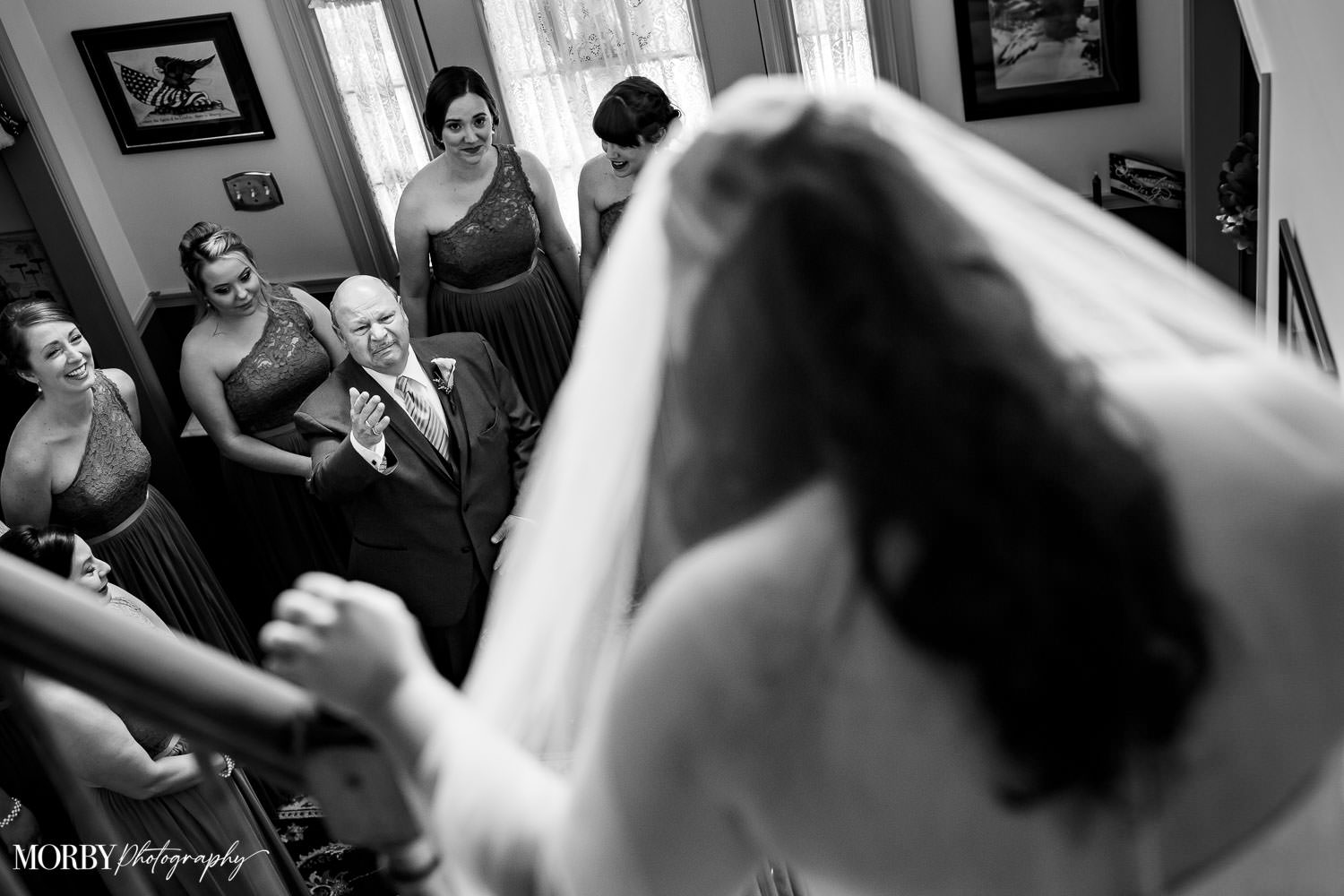 First Look with Mom, Dad, or the Kids
In addition to the standard family photos you'll probably take after the couple's First Look, consider doing a First Look photo session with important family members, such as a parent or a child. These might be nearly as emotional as the couple's First Look. A family First Look might happen in the bridal or groom's suite once you or your significant other finish getting ready, or it may take place in another location after the couple's First Look.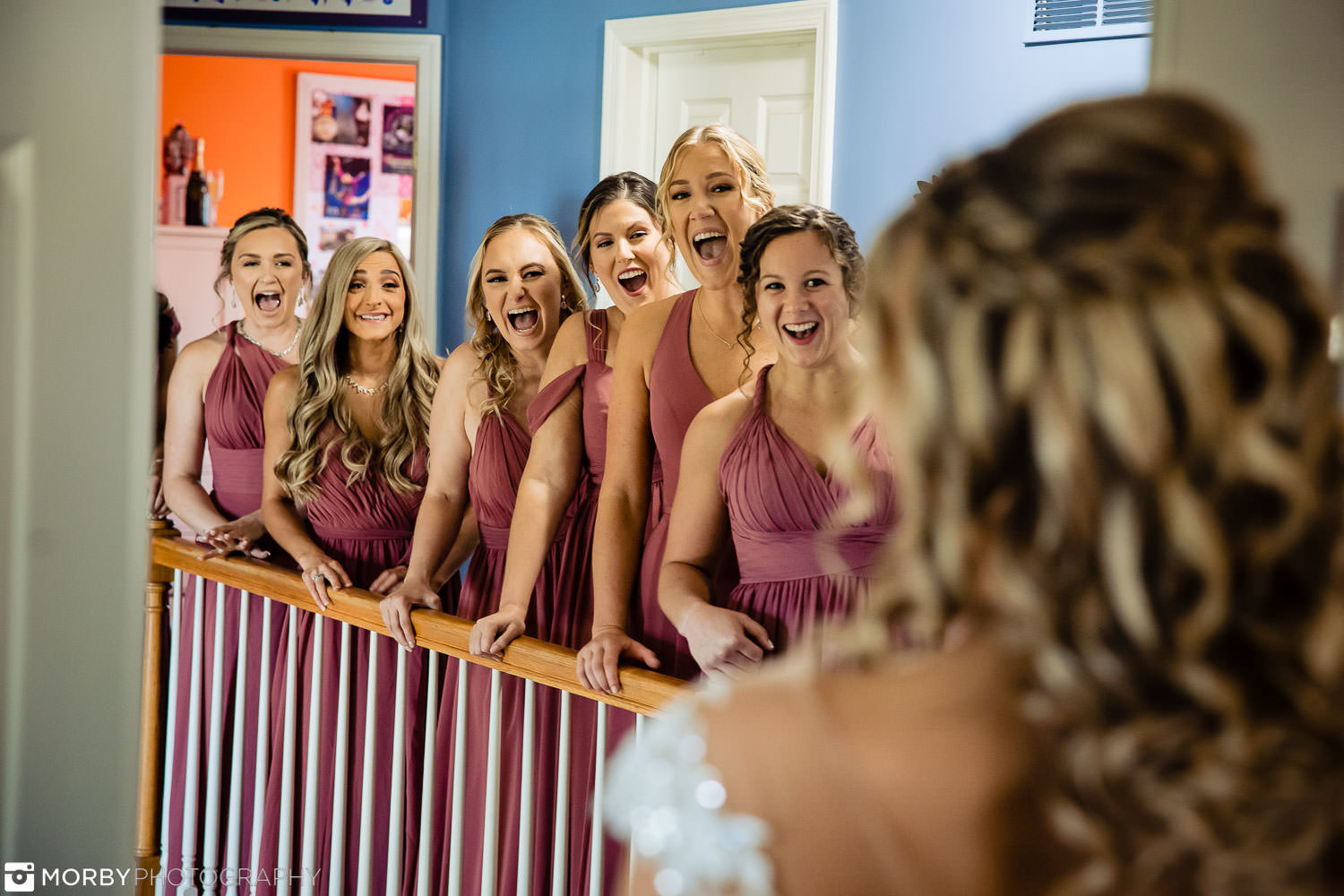 First Look with Your Wedding Party
This is another First Look that may take place wherever you are getting ready. Although the bride and her bridesmaids are often together before the ceremony, the bride may consider dressing in a separate room so you can have a special reveal with your girls. This can be a wonderful moment filled with joy, laughter, and hugs that allows you to bask in the love of your closest friends. Of course you want to capture it so you can remember it forever!
Groomsmen don't have to be left out. If you have a second photographer, the groom can coordinate a special moment with his favorite guys as well.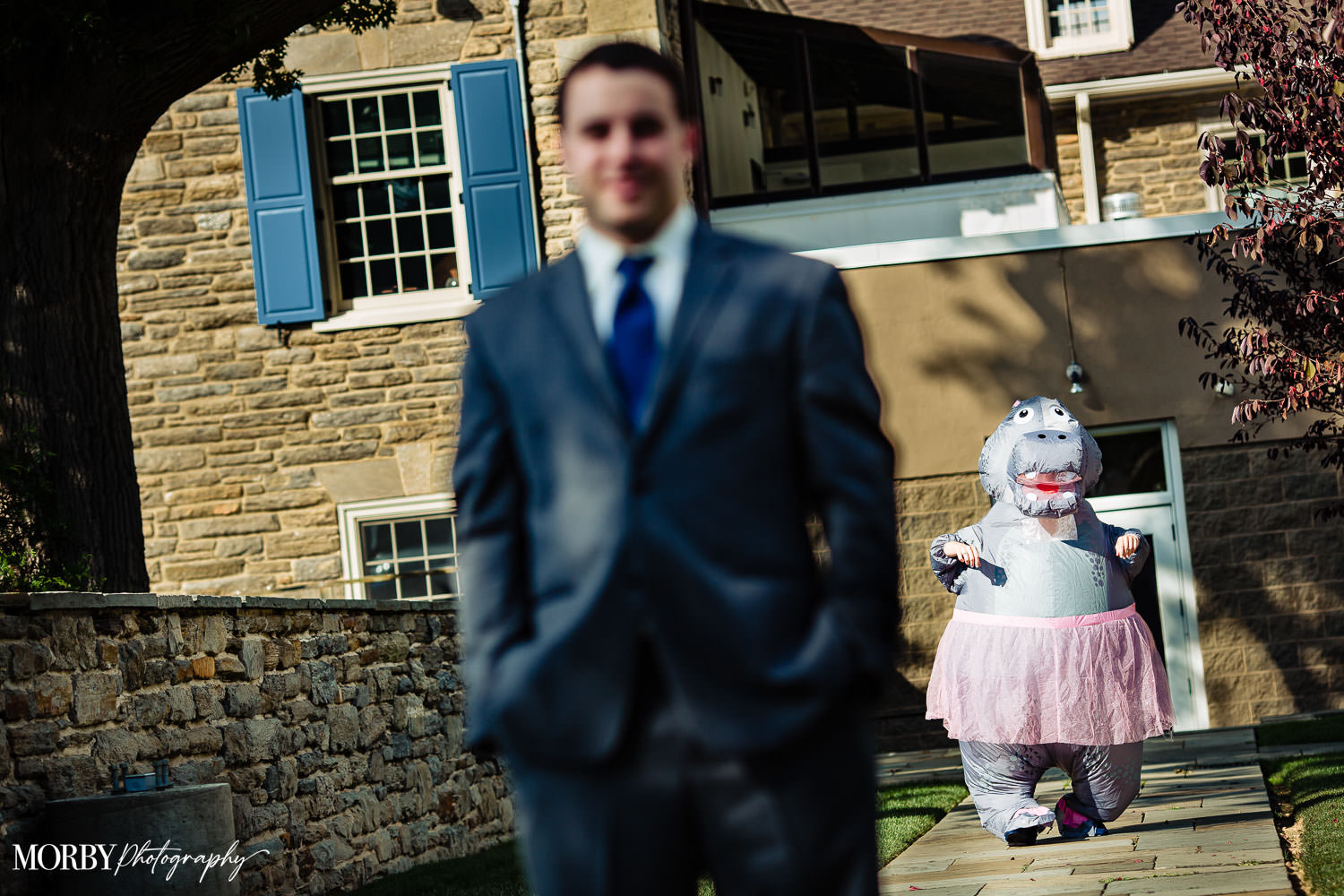 First Look Prank
A few years ago, a couple achieved internet fame when a bride decided to play a prank on her husband-to-be. The groom turned around during their First Look, expecting to see his love. Instead, he found his best man in a white dress. Soon a TikTok and Instagram trend was born as other couples subbed in friends or family for the bride, all in absurd attire.
If your significant other has a sense of humor, a first look prank can be a fun way to cut through their nerves. Not only will you have a hilarious video that just might go viral, but laughter will bring you together and make you forget all your worries. You'll certainly start your marriage with a story to tell.
First Look Without Seeing Each Other
Despite the many advantages of First Looks, some couples want to stick to the tradition of not seeing each other before the ceremony. Your wedding is your day, and you should do what you want! There are many creative ways that you can still share a special moment and take some great shots without seeing each other.
The simplest is to do a First Touch, where you hold hands around a corner or through a doorway, but don't actually see one another. This allows you to share a moment of connection and support without revealing your wedding attire. You could also do a First Hug, if both of you promise not to peek. Blindfolds might take away that temptation!
Some couples opt for a First Read, where they read favorite quotes or poems or even personalized love letters to each other without being in sight. You might sit back to back or on opposite sides of a corner. The First Read can be combined with the First Touch.
Finally, you might consider First Gifts, where each of you bestows a heartfelt gift to your partner. While this is most powerful if you are near enough (but out of view) to hear how your love responds to the gift, you could have a member of the wedding party deliver the gifts while you're getting ready.
First Look Photography – Not for Every Couple
First Look photos are not something that every couple wants or can fit into their wedding day. Here are some reasons that you may not want to do a First Look.
You Want to Share the Moment with…Everyone!
The most traditional form of the "First Look" – and one that some couples specifically want to capture – is that moment when the couple sees each other at the end of the aisle for the very first time. What makes this moment so special is that every person invited to your wedding gets to experience the raw emotion of it – parents, grandparents, relatives, and friends! The beauty of this moment will be remembered by everyone.
In this particular instance, we highly recommend having two photographers to capture the faces of both the bride and groom when they first lay eyes on each other.
You Have Different Traditions and Values
For some couples, their family tradition or values guide them to not want to have any sort of First Look or interaction until they are prepared to see each other at the ceremony. This is okay! As a couple, you should decide together what traditions are important to hold onto and which ones you may be willing to change or adjust.
A Wedding Day is Already Busy
If you're like most couples, your wedding day is planned out well ahead of time. There's a lot to fit into one day! Including First Look photos can create an additional item in the schedule that some couples decide against or just can't be practically scheduled. If First Look photos are not your top priority, do not be afraid to remove them from the list for something that is more important to you.
The Time of the Season Makes a Difference
Depending on the season or the time of day that a wedding is scheduled, daylight can be a scarce resource. First Look photos may not be practical when the daylight is needed for other photography and activities in your day. Your photographer will work with you to come up with a shooting schedule – this is an important time to decide which photos need that extra daylight!
In Summary
The First Look photos are not for every couple. Depending on your preferences, the day's schedule, the time of year, and your traditions and values, you may opt not to do them. But, if you do choose to do a First Look, you can create a special moment with your partner on your wedding day that will be captured in a beautiful and dramatic fashion for you to look back on again and again.