There are so many reasons to love spring weddings. The season of rebirth means longer days and warmer temperatures, along with an explosion of in-season flowers and endless color palette options. As with any season, there are a few potential pitfalls you should keep in mind. Rest assured, with a little advanced planning you can make your spring wedding picture perfect.
Book Early and be Aware of Competing Interests
As soon as you decide on a spring wedding, you should lock down both your venue and your vendors–like your photographer! Peak wedding season begins in late spring, and dates may be booked months or even years in advance.
It's also important to pull out a calendar before you commit to a date, as there are many shifting holidays in the spring which may conflict with your plans. Palm Sunday, Easter, and Passover all occur sometime in March or April, while Ramadan shifts every year but will take place in the spring until 2026. Don't forget about Mother's Day in early May, Memorial Day in late May, and Father's Day in early June. Even if you don't mind sharing your wedding weekend with a particular holiday, your guests might not feel the same. Some may decline if they have pre-existing plans or traditions, especially if they're coming from out of town.
You should also consider booking your limo and even your honeymoon as soon as you can. March and April is spring break season, so many destinations–especially sunny ones–may be flooded with college students. Airfare also tends to be more expensive during the spring break period, and if you wait too long, your flight options may be limited. In May you're competing with high school proms for some venues, as well as limos or other transportation. If you're going to hire someone to do your hair and makeup, you should lock them down before students start planning ahead.
Plan for Any Weather
Spring weather has the potential to be "just right" – not too hot or too cold. But it can tilt toward either extreme, and rain is a distinct possibility. Rather than fearing what Mother Nature might throw at you, we recommend leaning in with a good backup plan.
Spring is a beautiful time for an outdoor ceremony and outdoor photographs, but you should be realistic about the possibility of April showers. Consider how you'll keep your guests comfortable if it does rain. Maybe that's a backup indoor ceremony location. Perhaps you can pitch a tent. Think about how you will communicate a venue change.
If you're determined to remain outdoors no matter what, consider providing umbrellas for your guests. These could be a fun favor or a way to add personality to your wedding photos. Making the best of a less than ideal situation could leave you with cherished memories.
Don't forget about mud! Even if it doesn't rain on your wedding day, the ground could still be soggy from earlier rains or even melting snow. If part of your wedding takes place in a tent, we recommend renting flooring for the entire space so you don't have to worry about the ground becoming a muddy, slippery mess. The bride may need to take special care to keep her train off the ground while outdoors. Consider designating a bridesmaid to carry it for her, and be sure to have an emergency cleaning kit on hand if it does get dirty. (It's best to let the mud dry and flake off, and then use a stain remover pen.) Soft ground and stiletto heels don't mix well, so you may want to consider using heel savers or an alternate pair of shoes for your outdoor photo shoot. Matching or monogrammed rain boots for the bridal party could add some whimsy to your photos.
Rain isn't the only weather you should plan for. Spring evenings can be chilly once the sun goes down. If your reception is in a tent or outdoors, you can rent a heater. You might even consider having blankets or shawls available in your wedding colors for any guests who might be cold. Conversely, sometimes summer comes early. If you find yourself getting married in an unexpected heat wave, consider advising the groom and his groomsmen to bring an extra shirt just in case they sweat through the first one. Be sure to have plenty of water available for guests, especially before the reception starts. Fans or ice packs could help keep you and your guests cool.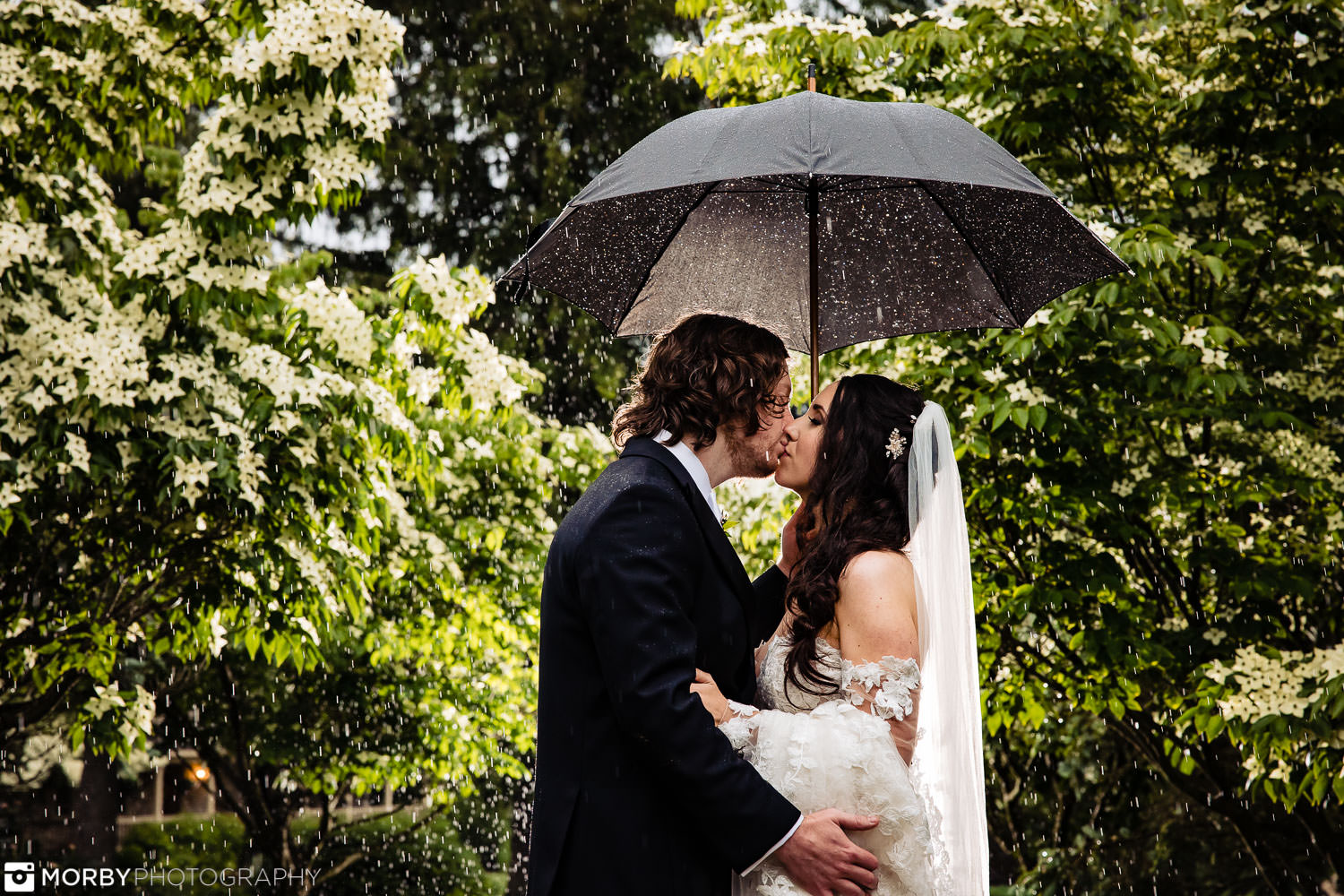 Embrace the Beauty of Spring
Many venues are at their best in spring as flowers bloom and trees start to bud. Be sure to make the most of that when you're choosing where to take your photographs. This is the perfect time for a garden ceremony. Spring also has the widest selection of flowers in season, so be sure to take advantage! Flowers that are in season will look fresher and be kinder to your budget. Floral arrangements scattered throughout your ceremony and reception venues can add drama and beauty and elevate your candid shots.
A great thing about spring weddings is that few colors look out of place, so you can choose what you love without worrying about being out of season. Lean into winter tones, embrace spring time pastels, or look ahead to vibrant summer colors. Chances are, you'll have several affordable flower options to match.
Spring also marks the start of fresh produce, which you may want to include in your menu. Feel free to move away from heavier winter fare towards lighter salads, roasted vegetables, and fresh fruit.
Consider an Outdoor Lounge
If you're looking for a fun way to make the most of the gorgeous spring scenery, consider an outdoor lounge. Rent furniture from a vendor like our friends at LILAC & LACE CO. and set up an outdoor living room with couches, chairs, a table or two, and maybe even a rug to tie it all together. Pick unique pieces that match your style and you have the perfect spot for some amazing photos for the couple and the wedding party. After the official photos are taken, it's a great spot for guests to relax and socialize during the cocktail hour or reception and take some candid shots of their own.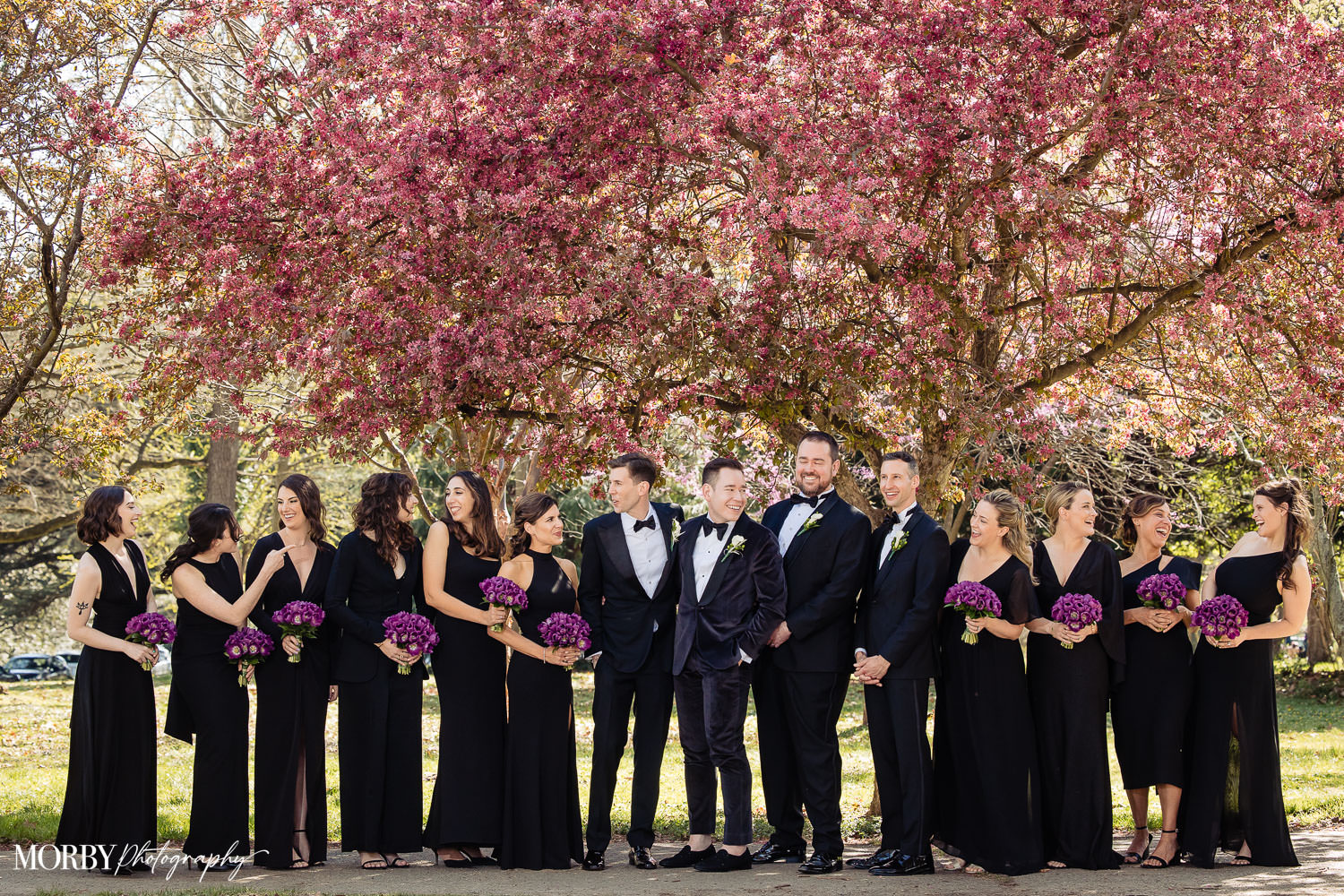 Embrace the Spirit of Rebirth
Spring can be a magical time to get married, as even nature is celebrating a new season and guests are excited for a reason to party after a long winter. Longer days and warmer temperatures during this transitional time give you maximum flexibility in wardrobe and color choices. You and your guests will enjoy (hopefully) comfortable weather, fresh flowers, and an abundance of natural beauty as you start your new life together.